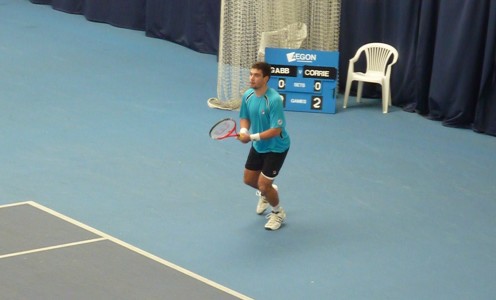 Team Bath MCTA tennis academy player Richie Gabb narrowly missed out on winning lifting his first $10,000 title last week, in Greece.
Played in the town of Marathon, home of the Ancient Olympics, Gabb fought all the way through the draw, eventually losing the final in a tie-break decider to in-form Brit David Rice.
On the way Gabb beat top Junior Filip Peliwo from Canada in the semi and overcame a tense quarter-final saving numerous match points  against local favourite Theodoros Angelinos.
Gabb, whose ATP ranking has been consistently increasing this year, has trained at the University of Bath since 2009. He forms part of a growing senior group of players based at Bath including Wimbledon players past and present Mel
South, Lisa Whybourn, Samantha Murray, Anna Smith, New Zealand Davis Cup player Marcus Daniell, former GB National Junior Singles Champion's Toby Martin and Scott Clayton.
Gabb and the other senior players from Bath now turn their attention to the grass court season, beginning at Nottingham this weekend.
Follow our players this summer on twitter at: @teambathmcta

—————-
Men's Singles results, $10k, Marathon, Greece.
Richard GABB (GBR) [5]     6-4 7-5    Efthimios EFTHIMIADIS (AUS)
Richard GABB (GBR) [5]     6-3 6-3    Jordan UBIERGO (FRA)
Richard GABB (GBR) [5]     6-7(3) 6-1 7-6(7)    Theodoros ANGELINOS
Richard GABB (GBR) [5]     6-4 6-4    Filip PELIWO (CAN) [6]
David RICE (GBR) [7]     7-5 4-6 7-6(5)    Richard GABB (GBR) [5]