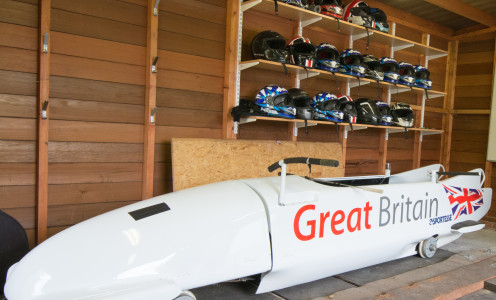 Paula Walker will be partnered by Rebekah Wilson in the GBR1 bobsleigh crew for the 2013/4 Olympic season, British Bobsleigh announced today (Tuesday).
The pair, who train at the University of Bath, struck gold for Great Britain at the 2011 World Junior Championships in Park City, the USA, in 2011. Walker competed at the Vancouver 2010 Olympic Winter Games, finishing 11th.
Fellow Olympian John Jackson will drive the men's GBR1. He has a crew that includes Craig Pickering, the former Olympic sprinter, as well as Bruce Tasker, Stu Benson and Joel Fearon,
Jackson, Benson, Tasker and Fearon teamed up to finish fifth at the 2013 World Championships in St Moritz and then
British Bobsleigh, which has its headquarters at the University of Bath, have selected three women's crews and four men's for the new season.  The British team travel to Calgary in Canada next month to start the qualification season for the 2014 Olympic Winter Games, which take place in Sochi in February.
Gary Anderson, British Bobsleigh Performance Director, said: "The objective for GBR this season is to qualify the maximum number of sleds for the Olympic Games in Sochi.
"I'm very pleased that recent results show we are on track to hit the medals in Sochi and have every faith in my team and the athletes selected today."
Further information and the full team selections are available on the British Bobsleigh website.