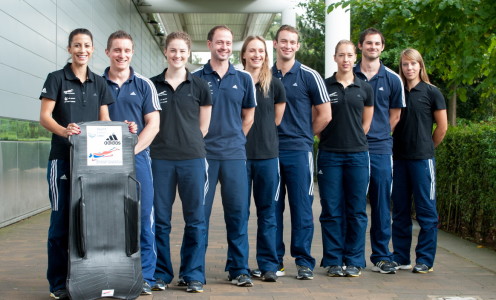 British Skeleton, which has its headquarters at the University of Bath, has named the athletes that will compete on the World Cup and Intercontinental Cup circuits in the lead-up to the Sochi 2014 Olympic Winter Games.
The announcement comes after two days of selection racing on the Altenberg track in Germany.
Lizzy Yarnold won the women's selections races with Ed Smith winning the men's competition. University of Bath Coach Education and Sports Performance graduate Shelley Rudman, silver medallist at the Turin 2010 Olympic Winter Games and reigning world champion, was pre-selected and did not have to compete for a place on the GB World Cup squad.
The trio of British men in the GB World Cup squad includes Dominic Parsons, who is studying for a PhD in Mechanical Engineering and receives support from a Santander Sports Scholarship.
Performance Director Nigel Laughton said: "It has been great to see such hard fought selection races over the past week. I'd like to congratulate them all, along with the coaching and support staff, for their continued commitment, determination and skill.
"On the whole we are in great shape and I am delighted that we have for the first time filled all our quota places on each FIBT competition circuit.  To have four different squads competing at different levels of our sport is encouraging not just for this Olympic season but for the future of British Skeleton."
The British Skeleton selection committee will meet again in December to carry out a mid-season review for all the squads.
World Cup Squad
Men
1.    Ed Smith
2.    Dominic Parsons
3.    Kristan Bromley
Women
1.    Shelley Rudman (Pre-selected)
2.    Lizzie Yarnold
3.    Donna Creighton
Intercontinental Cup Squad
Men
1.    David Swift
Women
1.    Laura Deas
2.    Rose McGrandle
For further information, including members of the Europa Cup and North American Cup squads, see the full British Skeleton press release on the British Skeleton website.