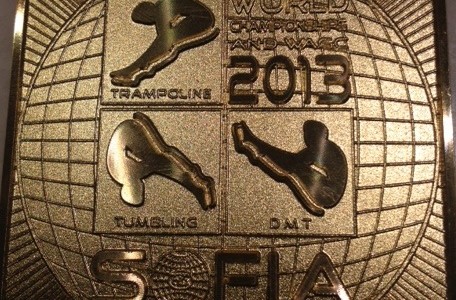 Two athletes who train at the University of Bath are celebrating medals at the Trampoline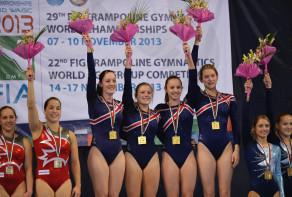 Gymnastics World Championships in Bulgaria.
Laura Gallagher joined forces with Emma Smith, Kat Driscoll and Bryony Page to win gold in the women's trampoline team final in Sofia. Silver went to Canada with Belarus coming third.
Laura, who also finished 14th in the individual competition, only returned to action at the end of June after eight months out through injury.
She said: "I'm made up with winning gold in the team event. China have been dominant for so long, and we finished second to them last time, so to beat them was really special."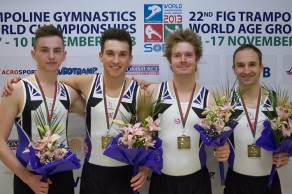 And University of Bath graduate Pete Cracknell helped Great Britain to team bronze in the senior men's double mini trampoline team final in Sofia.
Pete (pictured right), a Mathematics and Computing graduate, trains with Team Bath Evolution Trampoline Club.
Meanwhile, University of Bath-based rhythmic gymnasts came home with an impressive medal haul from the Home Nations International competition in Gibraltar.
Tiola Gleeson (pictured – photo John Holmes), a 13-year-old City of Bath Rhythmic Gymnastics Club member who trains at the University, won six gold medals representing the England red rose team.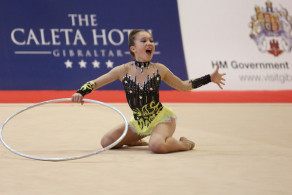 She took gold for all four pieces of individual apparatus, as well as the individual all-around title and the team gold.
Selena Brown, another City of Bath gymnast, won silver with the ball and individual all-around bronze. Her England white rose team won team bronze.
The pair are coached at the University of Bath by Sarah Moon, who was England team coach at the event.