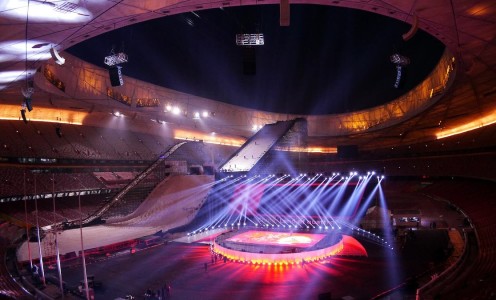 "It was like a Coldplay concert," reported Lloyd Wallace University of Bath Sports Performance student Lloyd Wallace after competing at the World Cup Aerial Skiing in Beijing's iconic Bird's Nest stadium.
"A crowd of 40,000, spotlights, massive TV screens and pumping music.  It is hard to express how awesome the event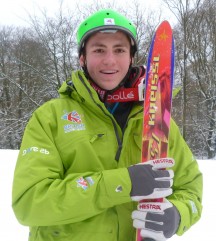 was."
Usually the aerial competitions are held in ski resorts, frequently high up in snowy mountains so it was a new experience for the aerial skiers to compete in a stadium.  Snow was brought in from nearby.
Wallace, 18, from Wiltshire finished 36th in his first competition outside Europe. He took a nasty crash in training before the competition but managed to participate with a sore leg, shoulder and nose.  He scored a solid 74.24 for his first jump with a range of judges scores from 8.1 to 8.7 for a Lay-Full, with straight form and a solid landing.
"The noise from the crowd was just amazing," he said.
"I'm very much the rookie at an event like this.  I'm jumping double somersaults with several twists, but the top guys are all jumping triples with four twists.  I'm looking forward to coming back next year with more competitive tricks."
Wallace still hopes he may be able to secure a place on the GB team for the Sochi 2014 Olympic Winter Games.