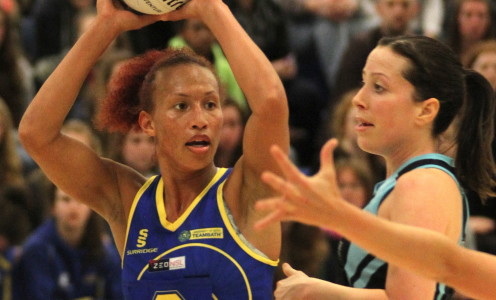 Team Bath's netballers battled hard but went down to table-toppers Surrey Storm 51-61 at the University of Bath Sports Training Village tonight (17 March) in the Zeo Netball Superleague.
Storm played a blinder in defence and were sharper at getting the ball through to their shooters.
Team Bath's England mid-court player Serena Guthrie remained up-beat despite the defeat.  She said: "Obviously we are disappointed to go down by ten goals but Surrey are a good team and were never going to give many balls away.
"I feel we made a step up from where we have been playing recently and now we need to make a step up again in consistency.  We need to be even more clinical".
Guthrie put in a magnificent personal performance and  coach Jess Thirlby praised the seven home players who played the whole 60 minutes.  "They put in a huge effort but it was always going to be difficult to come back from an 8-14 deficit after the first quarter".
Storm surged ahead to a 7-2 lead in that opening quarter before Thirlby called a time-out to steady the ship.
In the second quarter the home side looked capable of the kind of fight-back which saw them grasp a last-gasp draw in the away fixture against Surrey earlier this season.
Looking sharper in attack and tightening up in defence, Team Bath came back to trail by just two goals at 16-18 and 18-20.
"Then they just slipped away from us towards the end of the second quarter and we weren't able to stick to task in defence', said Thirlby whose options were severely limited for tonight's fixture with the loss of three first-choice defensive players, including England goal-defence Stacey Francis who has undergone eye surgery.
Veteran Billy Pritchard and new signing Sarah Penny worked tirelessly in defence against Surrey captain-come-coach Tamsin Greenway and Rachel Dunn – both former Team Bath players who have played for England.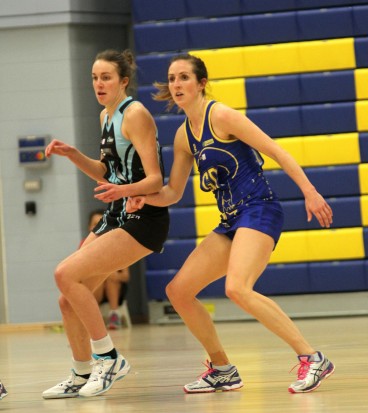 With a four-goal (25-29) deficit at half-time, Team Bath still had a lot to play for.  Goals were traded with  each centre-pass for the opening few salvos of the second half before the visitors began to edge away to lead 40-33  and then 46-39 at three-quarter time.
Team Bath never recovered despite a spirited few phases of play early in the final period.
"It was always going to be difficult to get any turn-over ball from a team like Surrey and when we got it, we didn't capitalise on it", said Thirlby.  "That's not to say that coming back on them in the later stages of the league is impossible".
Team Bath's defeat tonight came on the back of a 66-50 win against Team Northumbria on Saturday and the reigning Superleague Champions are still in solid contention for a top-four finish and a semi-final place.
Their next home match at the Sports Training Village is against perennial rivals Hertfordshire Mavericks, doors open at 6.30pm and pre-match entertainment starts at 7pm.
Carter Jonas are Team Bath Netball's property partner, Surridge are the Team Bath kit supplier and Skins provide the team with compression wear.
Quarter scores (Team Bath first):
Q1:  8-14 Q2:  17-15 (25-29); Q3:  14-17 (39-46); Q4:  12-15 (51-61)
Starting sevens
Team Bath
GS: Rosie Allison GA: Pamela Cookey, WA: Yasmin Parsons, C: Mia Ritchie, WD: Serena Guthrie, GD:  Ursula (Billy) Pritchard, GK: Sarah Penny
Bench:  Lauren Dent, Sophie Masterson, Jazz Scott, Jenna Murie, Amanda Trounce
Changes:  None
Coach:  Jess Garland, Assistant coaches:  Denis Ellis
Surrey Storm
GS:  Rachel Dunn, GA:  Tamsin Greenway, WA: Georgia Lees   C:  Becky Trippick, WD:  Amy Flanagan, GD Katy Holland, GK:  Hannah Reid
Bench:  Karen Ainsworth, Stef Bello, Katie Harris, Alex Sinclair
Changes:  Q4 Flanagan – WD – Bench, Ainsworth Bench – WD
Shooting Stats
Team Bath: Allison 33 from 40, 82.5%, Cookey 18 from 19, 94.7%
Surrey Storm:  Dunn 55/57 – 96.5%, Greenway 4 from 5 80%, Harris 2 from 2 100%
Tickets for the remaining  2014 matches are available now. For a full list of fixtures and for ticket information please go to http://www.teambath.com/sport/netball/fixtures-results/
You can also follow Team Bath on Twitter at twitter.com/teambath or facebook.com/teambath
You can follow Team Bath netball at twitter.com/TeamBathNetball
For further information please contact the Team Bath press office at Matchtight Ltd on 01225 383518 by email at press@matchtight.co.uk