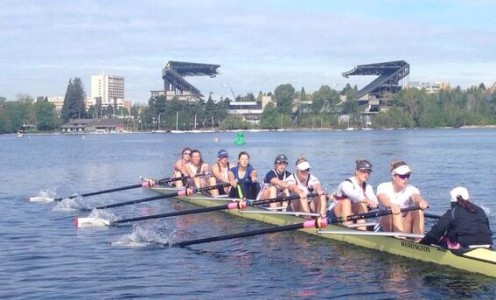 University of Bath student Sam Courty has been selected to row in a senior British crew for the first time at the Windermere Cup in Seattle this weekend.
The 21-year-old Sport and Exercise Science student is a member of a 10-strong squad for the women's eight.
The third year student joined the GB Rowing Team's Start programme 18 months ago.
"She has always had the right attitude," said Dan Harris, Talent Development Coach – Bath for the Start programme. "She advanced quite quickly, but this year she has worked really hard and her performances have rocketed."
Courty impressed at the recent GB Rowing Team Senior Team and Under-23 Trials at Caversham. She reached the A final, where she rowed against Heather Stanning and Helen Glover, who both learned to row at the University of Bath Start centre and won Olympic gold at London 2012. Courty came home sixth in the A final at the trials, winning the under-23 category.
She features in a squad at the Windermere Cup that combines youth and experience. Zoe de Toledo, who coxed the GB eight to fourth at last year's World Championships in Korea, is in the squad, as well as Zoe Lee and Caragh McMurtry, who also were also in that eight in Korea.
"This is a good opportunity to provide match-racing experience early in the season and to blood some new rowers", said Sir David Tanner, GB Rowing Team Performance Director.
They compete in the Windermere Cup on Saturday (3 May).
For further information on sport at the University of Bath please contact the Team Bath press office at Matchtight Ltd on 01225 383518 or by email at press@matchtight.co.uk