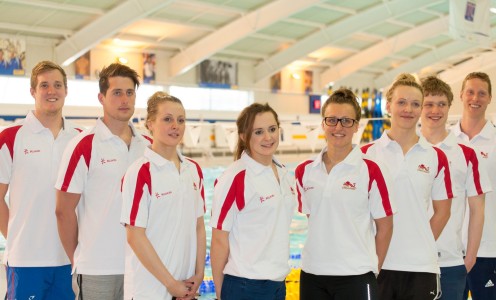 Nine University of Bath based swimmers were today (Wednesday) selected to represent England at the Glasgow 2014 Commonwealth Games.
The list includes three swimmers who medalled at the Delhi 2010 Commonwealths, two University of Bath students and five Commonwealth Games debutants.
Joe Roebuck, Lizzie Simmonds and Chris Walker-Hebborn won medals at Delhi four years ago and train at British Swimming's National Training Centre for Swimming at the University, where they are coached by Dave McNulty and Graeme Antwhistle.
Roebuck, who has trained in Bath since January 2013, said: "I got two silvers last time. I don't want to take a step backwards so it's that or better for me. There's a really good training group here. It's all geared towards performance and it's an environment that breeds success."
Andrew Willis, a Chemical Engineering student at the University, returns to Commonwealth action after just missing out on the medals in fourth in the 200m breaststroke two years ago.  "I was relieved to qualify and I'm really excited now the team has been named," he said.
There are Commonwealth Games debuts for Sports Performance student and Santander Scholar Jay Lelliott and for Tilly Gray, who are both coached by Mark Skimming.
Lelliott said: "It was a bit of a shock to qualify, but now I have I want to make a statement and show people what I can do. I'm really buzzing. To go to Glasgow and represent my country will be incredible."
Talented teenager Siobhan-Marie O'Connor also makes her Commonwealth Games debut, as do Sophie Allen and Amelia Maughan. They all train at British Swimming's National Training Centre at the University.
O'Connor said: "I've never been to a Commonwealth Games before and I'm really excited. I'm so happy to be on the team. London 2012 was incredible and I loved the Games environment. That made me really hungry. This is the kind of thing I do the training for."
Roebuck won a pair of silvers in the 200m and 400m individual medley, Simmonds won a 200m backstroke silver and Walker-Hebborn was a member of England's bronze medal winning 4x100m medley relay team.
The selected England swimmers are:
Sophie Allen (coached by Dave McNulty & Graeme Antwhistle)
Tilly Gray (Mark Skimming)
Jay Lelliott (Mark Skimming)
Amelia Maughan (Dave McNulty & Graeme Antwhistle)
Siobhan-Marie O'Connor (Dave McNulty & Graeme Antwhistle)
Joe Roebuck (Dave McNulty & Graeme Antwhistle)
Lizzie Simmonds (Dave McNulty & Graeme Antwhistle)
Chris Walker-Hebborn (Dave McNulty & Graeme Antwhistle)
Andrew Willis (Dave McNulty & Graeme Antwhistle)
The nine England swimmers join three other Bath-based swimmers who are already Glasgow 2014 bound.
Michael Jamieson, silver medallist in the 200m breaststroke four years ago, swims for Scotland; Jemma Lowe, bronze medallist in the 100m butterfly in Delhi returns to action for Wales, while Alexander Beaton will contest back-to-back Commonwealths for Guernsey.
Athletes with Bath links have now been selected to compete in athletics, judo, shooting and swimming at the Glasgow 2014 Commonwealth Games.
A full list of selected athletes is available on the Glasgow 2014 pages of the Team Bath website.
For further information about sport at the University of Bath, please contact the Team Bath press office at Matchtight Ltd on 01225 383518 or press@matchtight.co.uk
Or further information about the England swimming team at Glasgow 2014 please see the England team website or the ASA website.