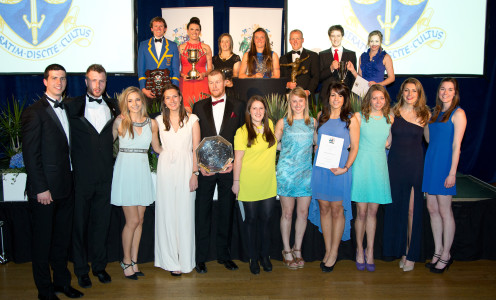 England cricketer and University of Bath footballer Frances Wilson was named the University's Sports Personality of the Year at the annual Blues Awards ceremony.
The Sports Performance student topped a poll of members of the Students' Union Sport from a shortlist that also featured Olympians Dominic Parsons (skeleton) and Andrew Willis (swimming), as well as Chris Hotchen
(badminton).
Wilson, who has received a Santander Scholarship during her time at the University, said: "I was quite surprised, but it was really cool to win, particularly as it's the students who vote for the winner.
"This has been the best four years of my life," added Wilson, who graduates this summer "I've really loved it and I'm really pleased that I've played football as well as cricket."
Wilson captained the University women's football first team in her second and fourth years as well as playing for Somerset and England at cricket, including an appearance at the world-famous Melbourne Cricket Club ground in 2010. A batter, she was a member of the England squad for the World Cup in Bangladesh this spring.
Past winners of the Sports Personality of the Year Award include Olympic medallist Michael Jamieson and Paralympic medallist Ben Rushgrove.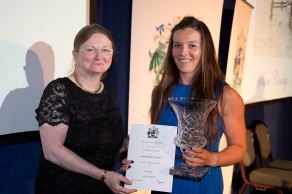 The sport of rowing was another big winner at the Blues Awards ceremony, which is organised by Students' Union Sport and took place at Bath's historic Assembly Rooms.
Rower Sam Courty (right), a Sport & Exercise Science student, received the Tugendhat Trophy for Sporting Endeavour, which recognises achievements by athletes in sports that they were not familiar with when the arrived at the University.
Stuart Gordon, an Integrated Mechanical & Electrical Engineering student, won the Gethin John Bevan Club Member of the Year Award for his voluntary work with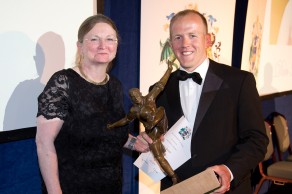 the rowing and canoeing clubs.
And Dan Harris (right), who heads up the GB Rowing Team's Start programme at the University, was named winner of the Ivor Powell Award for Excellence in Coaching.
Meanwhile, Mike Pooley (below right), a member of the University's grounds staff, received the Martyn Hedges Award,  the highest accolade awarded by the University of Bath Blues Committee. Pooley has worked tirelessly with the grounds staff team for more than 25 years to ensure the outdoors sports facilities are consistently of the highest possible standard.
The netball firsts won the team of the year and the Kickboxing Club was named club of the y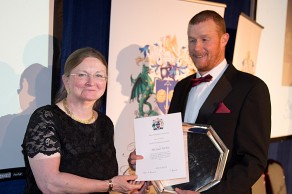 ear.
There were also honorary blues for 16 athletes with University of Bath links who competed at Sochi 2014, including Lizzy Yarnold and Kelly Gallagher, Britain's gold medallists at the Olympic Winter and Paralympic Winter Games respectively.
Photographs by Mervyn Clingan.
2014 Roll of Honour
Sports Personality of the Year
Frances Wilson (football & cricket)
Also on shortlist: Chris Hotchen (badminton), Dominic Parsons (skeleton) & Andrew Willis (swimming).
Team of the Year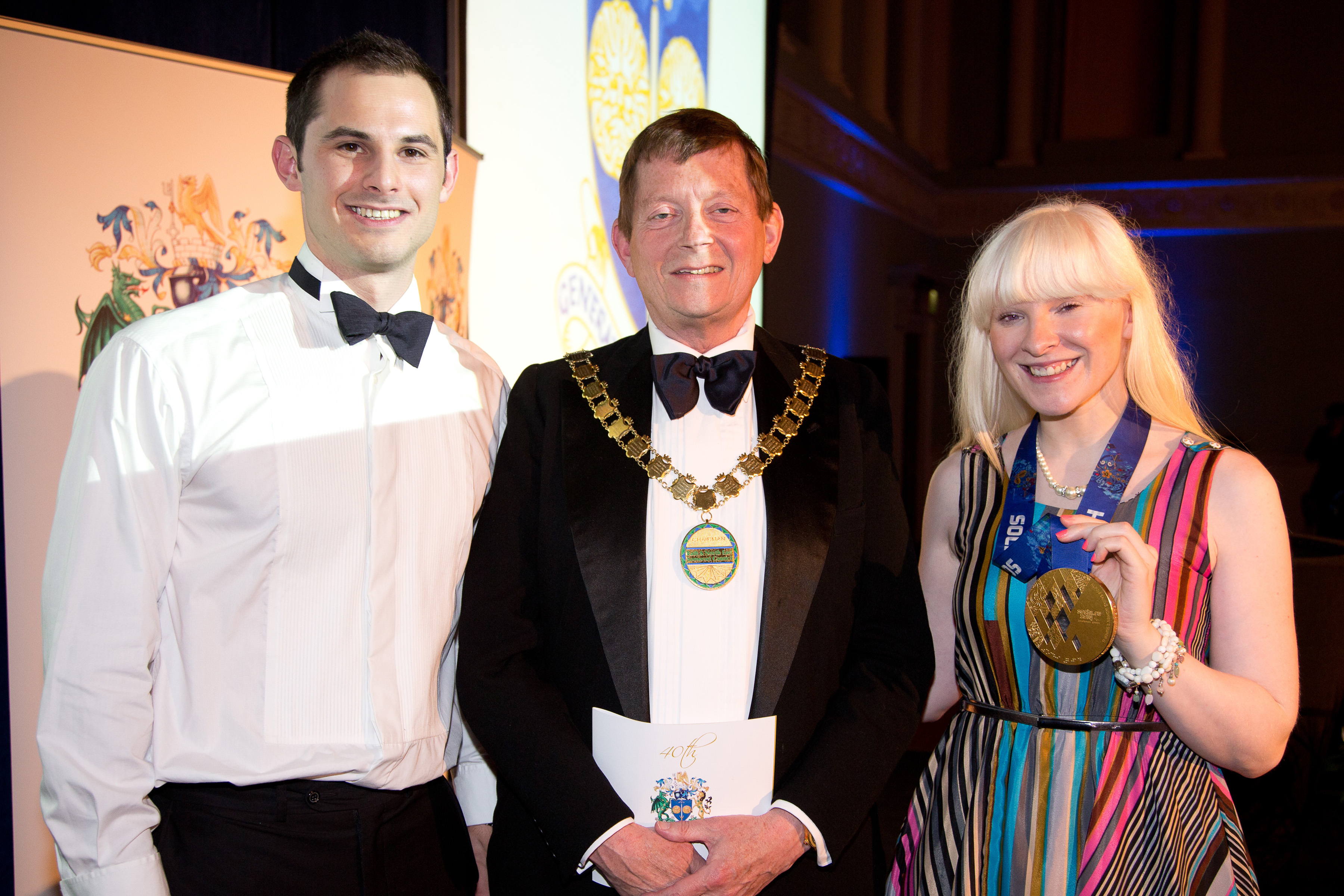 Netball 1sts
2nd: tennis men's 1sts
3rd: lacrosse men's 1sts
4th: football women's 1sts.
Club of the Year
Kickboxing Club
2nd: Triathlon Club
3rd: Lacrosse Club & Canoe Club (joint)
Gethin John Bevan Club Member of the Year
Stuart Gordon (rowing & canoeing)
Tugendhat Trophy
Sam Courty (rowing)
Ivor Powell Award
Dan Harris (rowing)
Martyn Hedges Award
Mike Pooley (grounds staff)
Honorary Blues
Chris Hotchen (badminton)
Tom Janicot (basketball & SU officer)
Emily Hogge (triathlon)
Sion Kitson (football & Futsal).
Sochi 2014 Honorary Blues
Lizzy Yarnold
Shelley Rudman,
Dominic Parsons
Kristan Bromley (all skeleton)
John Jackson
Stuart Benson
Bruce Tasker
Joel Fearon
Lamin Deen
John Baines
Ben Simons
Andrew Matthews
Paula Walker
Rebecca Wilson (all bobsleigh)
Zoe Gillings (snowboarding)
Kelly Gallagher (visually impaired Alpine skiing).
Full Blues
Chris Hay (fencing)
Alex Walker (tennis)
Niklas Rieger (hockey)
Yasmin Parsons (netball)
Ruby Smith (lacrosse).
Half Blues
Sara Parfett
Justin Austin (both swimming)
Tom Ash (fencing)
Adam Lord
Lewis Matthews (both karate)
Emily Prpa
Thom Sobey
Lucy McNaught
Harriet Lloyd (all hockey)
John Thompson  & Harry Burley (both tennis)
Millie Grey
Kate McGinley
Scarlett Williams (all netball)
Hector Payne (riding)
Frazier Christie (rowing)
Polly Wardle
Gordon Rieck & Raghav Khurana (football & futsal).
Colours
American football
Christoph Cox, Benjamin James Ashby,  James Benson-King, Simon Vanstone
Athletics
Angharad Davies
Badminton
Christopher Evans, Sophie Trerise, Gemma Hatton, Emma Mitchell, Thomas Penn, Hannah Preece, Katherine Shuttleworth, Natasha Hutchings
Basketball
Hebah Bibi, Ximena Rebollar, Edmund Kirwan, Constantinos Patinios
Canoeing
Stuart Gordon, Eleanor Mitchell, Lars Luckoff, James Dunsmore
Cricket
Benjamin Figueiredo
Fencing
Matthew Hale
Football and futsal
Liberty Barnett, Liam Stephens, Marcus Torr, Samuel Griffiths, George Bond, Jonathan Ward, Oliver Box, Matthew Mardell, Timothy de la Haye, Caroline Davidson, Francesca Wild, Michael Bawn, Frances Wilson
Gymnastics
Leah England, Heather Carver, Abigail Irvin, Jordan Koulouris, Georgina Bull
Hockey
Natasha Sweeney, Max Jennings, Emma-Louise Robinson, Thomas Pierce, Charlotte Kelly, Imogen Brade, Astrid Ainley, Benjamin Figueiredo, Alexander Milne, Sean Phillips, Alexander Ferrao, Tom Harden, Robert Adkins, Rosalind Keefe, Amelia Nunn, Stephen Thomson, Megan Boxall, Alex Russell, Tom Davey, Ieuan Davies, Charlie Griffiths, Ben Humphreys, Isabel Tiemann, Emily Munsey, Adam Lowe, Gemma Crouch, Tom Griffiths, James Ralphs, James Bevan, Katie Cook
Karate
Joshua Ayres, Neli Velkushanova, Andrew Woodford
Lacrosse
Lauren Foster, Simon McKinney, Rhys Topping, Andrew Kenyon, Ben Jessup, Hector Smethurst, Lucy Nelson, Charlotte Munro, Harriet Jackson, Paul Sladen
Riding
Laura Brady, Catherine Long, Hannah Taylor, Alice Moger, Laura Hemming (all netball), Zoe Kennerley, Rhian Denton, Jenny Hanlon, Philippa Kerby
Rowing
Jennifer Louise Pollard, Maria Stack, Ben Jackson
Rugby (league and union)
Harry Sanders, Francesca Hales, Max Moncrieff, Jasmin Swift, Hannah Howell, Harriet Waller, Alexandra Stroud, Joseph Donnelly, Evie Bunce
Squash
Francisca Louro Lopes dos Santos, Yong Sze Tam
Tennis
Christopher Taylor, Katie Jessop
Trathlon
Oliver Skittery, Calum Fraser
Ultimate frisbee
Andrew Watt, Adam Martin
Volleyball
Stelios Chrysostomou
Waterpolo
David Paris, Kate Williams, Rhianna Jamieson Stewart, Thomas Jones, Rachel Pearce.
Ribbon
Solveig Alsaker (handball).
For further information please contact the Team Bath press office at Matchtight Ltd on 01225 383518.