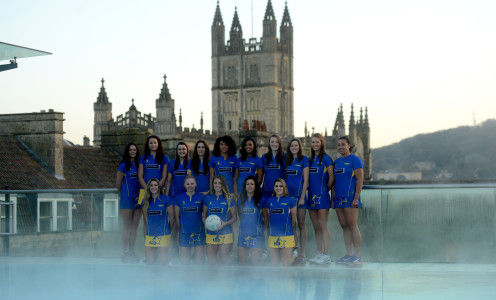 Team Bath's 2015 Superleague line-up was unveiled during a photo-shoot on the roof of the city's Thermae Bath Spa today.
Head Coach Jess Thirlby was bubbling with excitement at a new-look, multi-national line-up, backed by local firm Carter Jonas, that includes the welcome return of defender Sam Cook from long-term injury and Asha Francis in attack after the birth of her first child.
"The Superleague has really stepped up and every franchise is searching for its trump card this season", said Thirlby. "It's great to have Asha back with her experience and leadership. She will be a wonderful conduit between the younger but very exciting talents in the squad and the more experienced players".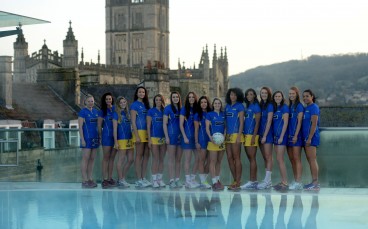 Kyra Jones, of Wales, and Scotland's captain Claire Brownie have also burst into the squad after recent trials. Jones impressed spectators as part of Celtic Dragons' 2013 and 2014 line-ups.
Cook will team up with Team Bath's England stalwart Stacey Francis as well as last week's Antipodean signing Bessie Manu along with Brownie and Jenna Murie.
Thirlby is pleased at the mix of styles that she can rely on in mid-court. "Mia Ritchie will be able to capitalise on all her learnings from Serena Guthrie over the past two seasons and we have top, young talents in Yas Parsons and Jazz Scott as well as Kyra and Scarlett Williams", she said.
"That gives us a well-balanced mid-court with new faces and an emerging style", she added.
In attack, Thirlby has the opportunity, subject to final selection, of playing former King Edwards' School pupil and England international Rosie Allison as a tall holding shooter but has other options to choose from as she makes her final selections.
It is in the shooting circle that the final cut will come. 16 players have been announced today but, when the league deadline looms on Monday 15 December, Thirlby will have to bring that down to 15. Medical guidance could form part of that decision.
That means an agonising wait for Rosie Allison, Rachel Shaw, Shaunagh Craig, Lauren Dent, Ellie Gibbons and, potentially, Asha Francis.
"It will be a tough challenge this year as nearly every franchise, like us, is trying to move on and think outside the box. There have been more overseas signings than ever before but we are confident that this is an exciting line-up and we will be a side to watch.
"As a franchise we have always put significant emphasis on the development of home grown players. This year we are complementing that with different styles and options including the signing of a quality overseas player. So it's going to be an exciting season".
Tickets for the 2015 Superleague are already on sale. Team Bath tee off their home fixtures with a televised game against arch-rivals Surrey Storm on February 9th followed in the same week by a clash with Hertfordshire Mavericks. Both matches will take place at the Team Bath Arena, part of the University of Bath's £30 million Sports Training Village.
Doors open for those home games at 6.45pm with pre-match entertainment and team warm-ups to watch before the main match.
Tickets cost £9 for adults and £6.50 for concessions. Students can by tickets for £3.50. Family tickets (for two adults and two children or one adult and three children, offer the chance to see the games at just £25.00 per match.
Fans can also watch all seven of Team Bath's home games in the round-robin stage for £49 for adults and £30 for concessions.
Carter Jonas are Team Bath Netball's property partner. Surridge are the official kit supplier and Skins provide the team with compression wear.
For further information members of the media can contact the Team Bath press office at Matchtight Ltd on 01225 383518 or at press@matchtight.co.uk
Full Team Bath Squad as at: 3 December 2014
Rosie Allison, Shaunagh Craig, Asha Francis, Lauren Dent, Rachel Shaw, Ellie Gibbons, Mia Ritchie, Yas Parsons, Jazz Scott, Scarlett Williams, Kyra Jones, Claire Brownie, Stacey Francis, Sam Cook, Jenna Murie, Bessie Manu