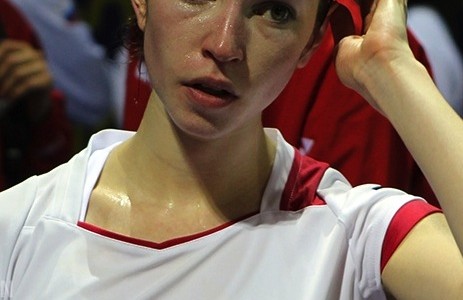 Team Bath badminton coach Peter Bush was brimful of pride this week after Heather Olver, a University graduate and alumni of his coaching group here at the Sports Training Village, won a senior national badminton title.
Olver, with Lauren Smith, won the English National women's doubles title in Crawley earlier this month.  Olver , who also won two silvers at last year's Commonwealth Games, had been defeated in five previous finals.
The duo won by 21-11, 21-11 over Jennifer Williams and Viki Moore in front of a home crowd for Olver who is originally from Sussex. "You want it so much but at the end of the day I'm really pleased we got it together – especially in Sussex!" , she said.
"It was great to see Heather win a title, she's the first to do that at senior level from our group here", said Bush.
Team Bath Futures player, 16 year-old Kirby Ngan also played well, reaching the semi-final of the women's doubles.
Jess Hopton, who has trained at the University for seven years now, reached the quarter-finals of both the singles and the women's doubles whilst Chris Evans, a third year sport and social science student, was a men's singles quarter-finalist.
Ngan and Hopton will get the chance to shine once more this coming weekend with the National Under 19 Championships taking place.