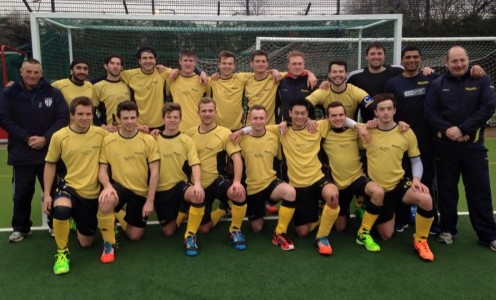 Team Bath Buccaneers were crowned as NOW:Pensions Men's Conference West champions to cap a memorable week which saw three of their players receive England age-group call-ups.
Matt Ming, a first-year Natural Sciences student at the University of Bath, and Liam Sanford have been named in the under-21 squad for matches against Scotland from April 14-16.
And youth keeper Toby Reynolds-Cotterill will gain more international experience this Easter after being named in the England under-18 squad for a test series against Holland at Lilleshall.
The talented stopper, who has played for Buccs' youth teams at the University of Bath for many years, has previously represented England at under-16 level.
Reynolds-Cotterill – a former King Edward's School pupil now studying for A-Levels at Millfield School in Street – also helped Buccs' under-18s win the prestigious National Cup last year and is part of the team hoping to defend it, having reached finals day once again.
They will travel to the Lee Valley Tennis & Hockey Centre in the Queen Elizabeth Olympic Park on Sunday, March 29 to face Beeston in the last four. The winners will go on to take on either Cannock or Cambridge City in the final later that day.
Ming, Sanford and their Buccs men's 1st XI team-mates are also heading to Lee Valley after booking their place in the promotion play-offs on a dramatic final day of the NOW:Pensions Men's Conference West season.
Buccs were second going into Sunday's match at Whitchurch but a 4-0 win, combined with a surprise 4-2 defeat for previous leaders Cardiff & Met at Cheltenham, saw them clinch top spot.
Captain Tim Davenport, who scored twice against Whitchurch, said: "I've felt since the first day of pre-season that this group was good enough to win the league.
"We've proved ourselves as the best team in the division and winning the title is a fantastic achievement, and one we have all worked exceptionally hard for.
"We've now got to train harder than ever to make sure we are ready to give the play-offs a real go. Undoubtedly they will be a real test for us but this is a very talented group and we're all looking forward to the challenge ahead.
"I'm delighted for the players, coaching staff, supporters and the whole club."
The play-offs are in a round-robin format, with Buccs facing Conference East winners Holcombe at Cannock HC on March 29.
They then take on Canterbury – who finished second from bottom in Conference Premier – on April 11 and Conference North champions Bowdon on April 12, with both matches being played at Lee Valley as part of finals weekend.
Meanwhile, Buccs have been shortlisted for three awards at the Bath & North East Somerset Chairman's Sports Awards.
Jody Paul – who coaches the club and university first teams, as well working with England's under-18s, under-21s and senior squad – is in the running for performance coach of the year.
Paul Atkins' work with Back To Hockey and in local schools has earned him a participation coach of the year nomination and Royce Menezes is listed for official of the year.
The winners will be announced at the end of March.