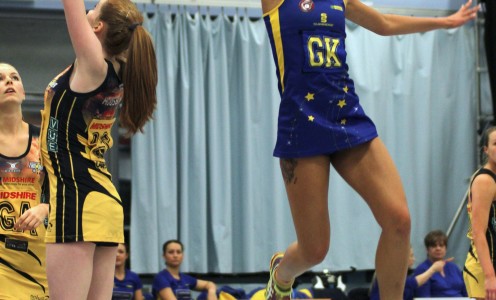 It may have ended in a 40-37 defeat but Team Bath Netball produced their best performance of the Superleague season to give defending champions Manchester Thunder an almighty scare at a highly-charged Sports Training Village on Monday.
Jess Thirlby's team went toe to toe with the runaway leaders throughout an enthralling contest, winning the first quarter and mounting a thrilling comeback in the last period as Thunder were forced to dig deep for a tenth successive win this season.
"I have to be pleased with that performance," said Team Bath head coach Thirlby. "We have been developing throughout the season and that was the closest we have come to what we are really capable of.
"The control that we showed in attack and defence, particularly in the first quarter, really made a statement. Then to come back from seven goals down in the final quarter and have chances to level or even win it was a great effort.
"We really asked questions of Thunder and we have to take confidence from that going into our game at Mavericks next week."
Team Bath were the last opposition to inflict defeat on Thunder, winning 55-51 in Manchester a year ago to the night.
Thunder had won 15 successive Superleague games and a title since then but they will not have been given many tougher tests.
Wing-defence Claire Brownie – who dedicated her player of the match award to friend Maureen Harrison, who sadly passed away from cancer – felt the performance was another giant step forward for the new-look Team Bath squad.
"That was easily the best we have played all season," said the Scotland captain, who ended the game with an ice pack on her ankle as Thunder became increasingly physical as they fought to hang on to their lead.
"We competed from start to finish and we had our opportunities to even win the game. All the team performed to their absolute best, so to win player of the match was really pleasing.
"Our plan was to believe in ourselves, trust each other and stay united throughout. We did that and we really pushed Thunder all the way.
"The difference in the end was we are a new team, while they have played together for many years. When we really start to click, we are going to be a match for anyone."
Shaunagh Craig was handed her first Team Bath start of the season in place of Rosie Allison in the only change to the seven which lost to Surrey Storm last Tuesday.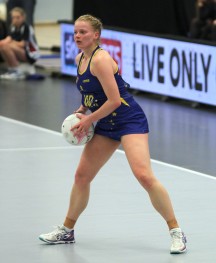 And she helped the hosts get off to a fantastic start, scoring twice in the opening minute – either side of an Asha Francis goal – to give Team Bath a 3-0 lead and set the tone for an excellent first quarter.
They were impressive from front to back, with sharp, accurate feeds from Mia Ritchie and Rachel Shaw being clinically converted by Craig and Francis as Team Bath maintained their lead throughout, going into the break with a 10-8 advantage.
Brownie, Sam Cook and Stacey Francis were tenacious in defence, forcing Thunder to rush their passes and shots.
And Team Bath's effort was summed up with the final action of the quarter when Stacey Francis made two quickfire interceptions, the determination clearly showing on her face.
Team Bath continued to dominate in the early stages of the second quarter, intercepting Thunder's centre pass to extend their lead through Asha Francis.
With the hosts leading 15-11 and Cook handling goal-shooter Helen Housby well, Thunder called a timeout and made an attacking change.
Housby was switched to goal-attack, in place of Kathryn Turner, and Krista Enziano was introduced at goal-shooter.
And the changes had a positive impact on Thunder, who looked more effective going forward and began to pose the home defence problems.
Team Bath managed to maintain their lead but Craig missed a chance to put them 19-16 up and instead they soon found themselves pegged back to all square.
And when a Shaw pass was intercepted, Enziano was able to put Thunder ahead for the first time – a lead they took into half-time after Craig missed a chance to equalize.
That was to be her last involvement in the game, with coach Thirlby introducing Allison for the second half. Asha Francis also went to the bench, with Shaw taking the goal-attack role, and Ritchie moved to wing-attack as Kyra Jones came on at centre.
Enziano extended Thunder's lead but the changes had settled Team Bath and three quick-fire finishes from Allison turned the game around once again.
With the champions being pressured into errors, there was little to choose between the sides as they traded goals and it wasn't until the closing stages that Thunder were able to pull away as Housby found her shooting range.
They led 32-28 going into the final quarter and quickly extended that to seven goals as Team Bath made a below-par start to the fourth period.
Coach Thirlby called a timeout to allow her players to regain their focus and it clearly worked as Team Bath wrestled control from the visitors.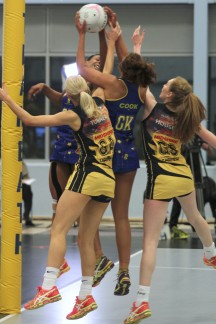 With Cook and Francis outstanding in defence, Team Bath turned over possession on several occasions and Allison began to close the gap with some accurate finishes.
Belief grew on and off the court that Team Bath might turn it around, with the home fans raising the roof in the closing minutes, but Thunder just about held on.
Team Bath's next match – a sell-out clash at fourth-placed Hertfordshire Mavericks on Monday, March 30 – will also be televised on Sky Sports, as will the final home game of the regular season against Celtic Dragons on Monday, April 13 (both 7.45pm).
Doors for the Dragons game will open at 6.45pm, with pre-match entertainment and warm-ups from 7pm. Tickets are available from http://teambath.ticketline.co.uk/ and http://tickets.sky.com/Netball/Team-Bath.
Carter Jonas are Team Bath Netball's property partner, Surridge are the Team Bath kit supplier and Skins provide the team with compression wear.
Team Bath
Starting Seven
GS Shaunagh Craig; GA Asha Francis; WA Rachel Shaw; C Mia Ritchie; WD Claire Brownie; GD Stacey Francis; GK Sam Cook.
Bench: Rosie Allison, Kyra Jones, Bessie Manu, Yasmin Parsons, Scarlett Williams.
Changes: Q3: Craig – GS to bench; Allison – bench to GS; A Francis – GA to bench; Shaw – WA to GA; Ritchie – C to WA; Jones – bench to C. Q4: A Francis – bench to GA; Jones – C to bench; Ritchie – WA to C; Shaw – GA to WA.
The full 2015 Team Bath Netball Superleague squad is: Rosie Allison, Sam Cook, Bessie Manu, Mia Ritchie, Scarlett Williams, Jenna Murie, Rachel Shaw, Lauren Dent, Claire Brownie, Asha Francis, Kyra Jones, Jazz Scott, Stacey Francis, Shaunagh Craig, Yasmin Parsons.
Coach: Jess Thirlby. Assistant coach: Denise Ellis.
Manchester Thunder
Starting seven
GS Helen Housby; GA Kathryn Turner; WA Chelsea Pitman; C Sara Bayman; WD Laura Malcolm; GD Emma Dovey; GK Kerry Almond.
Bench: Eleanor Cardwell, Beth Cobden, Jodie Gibson, Georgie Webster, Krista Enziano.
Changes: Q2: Enziano – Bench to GS; Housby – GS to GA; Turner – GA to bench. Q3: Cobden – bench to WD; Malcolm – WD to bench.
The full Manchester Thunder Superleague squad is: Kerry Almond, Sara Bayman, Ellie Cardwell, Beth Cobden, Emma Dovey, Krista Enziano, Jodie Gibson, Helen Housby, Paige Kindred, Laura Malcolm, Gabs Marshall, Chelsea Pitman, Kathryn Turner, Alice Travis, Georgie Webster.
Coach: Tracey Neville. Assistant coach: Karen Greig.
Quarter scores (Team Bath first):
Q1: 10-8. Q2: 18-19 (8-11). Q3: 28-32 (10-13). Q4: 37-40 (9-8).
Tickets for the remaining 2015 matches are available now. For a full list of fixtures and for ticket information please go to http://www.teambath.com/sport/netball/fixtures-results/
You can also follow Team Bath at twitter.com/teambath or facebook.com/teambath
You can follow Team Bath Netball at twitter.com/TeamBathNetball
For further information please contact the Team Bath press office at Matchtight Ltd on 01225 383518 by email at press@matchtight.co.uk