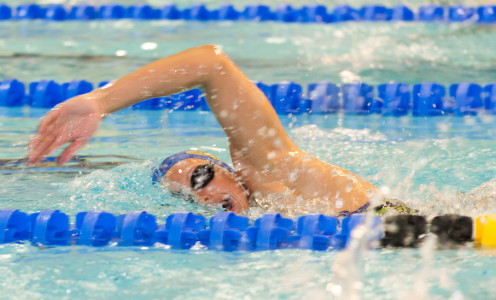 The University of Bath's elite swimmers are just days away from being able to train at the Sports Training Village's new London 2012 Legacy Pool.
But before then, they will be competing at the actual London 2012 Olympic pool, with the British Swimming Championships taking place at the London Aquatics Centre from April 14-18.
As well as national titles, qualification for this summer's FINA World Championships in Kazan, Russia is also up for grabs.
The British Gas National Training Centre Bath will be well represented in London, with Glasgow 2014 Commonwealth Games medalists Siobhan-Marie O'Connor, Chris Walker-Hebborn, Michael Jamieson, Andrew Willis, Lizzie Simmonds and Jazz Carlin among those looking to achieve the qualification criteria.
O'Connor won the 200m individual medley and 200m freestyle titles at the 2014 British Championships, setting the tone for a hugely-successful year, and is looking forward to defending her titles.
"I haven't been in that situation before but it is something I am excited to do," said the 19-year-old, who is coached by Dave McNulty and Graeme Antwhistle.
"I am really looking forward to going back to London and competing, I haven't actually raced there since the Olympics.
"The atmosphere in the pool during the Games was incredible and I can't wait to experience that and all the memories all over again."
Also looking to impress at the London Aquatics Centre will be University of Bath sports performance student Jay Lelliott, a Santander Sports Scholar who won 400m freestyle bronze for Great Britain at last year's European Championships in Berlin.
The 20-year-old and Tilly Gray, both of whom are part of University of Bath swimming coach Mark Skimming's performance group, also represented England at the Commonwealth Games.
And Skimming is looking forward to seeing how they, and the rest of his swimmers, fare at the British Championships.
"I think Jay and Tilly will do well but I am not going to make any predictions," he said.
"All I am looking for from all of the swimmers is progress. As long as they go there and give it their best shot, then there is nothing more I can ask of them.
"Preparation has not been easy but we have still had solid results in the BUCS long and short-course championships and I am looking forward to seeing how some of the first-year swimmers get on at a big event."
Skimming also said his group were excited about returning to training at the newly-refurbished London 2012 Legacy Pool, which is due to open to the public on Wednesday, April 22.
"It will be nice to be back home and in our pool, without a doubt," he added.
Tickets for the British Swimming Championships are available from http://www.ticketmaster.co.uk/feature/british-swimming