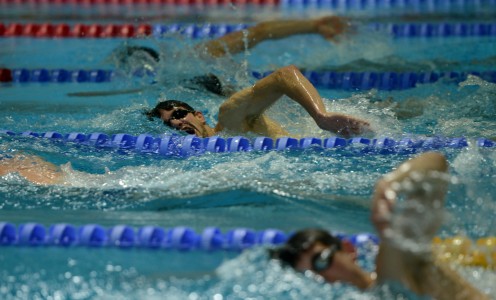 The newly-refurbished London 2012 Legacy Swimming Pool at the University of Bath officially re-opened to the public at 6am on Wednesday after being put through final testing by Pentathlon GB's elite athletes.
Mhairi Spence, 2012 World Champion, was first to dive in and was joined by reigning World Champion Samantha Murray and fellow Olympian Nick Woodbridge as they trained in the world-class facility on Tuesday ahead of next week's Modern Pentathlon World Cup in Hungary.
But the Olympic-sized pool is not just for elite swimmers – it is also open every day and seven days a week to members of the public. The price remains the same as before the refurbishment – £3.90 for adults and £3.30 for concessions (under-16s, over-60s, disabled, Alumni Card holders, NUS Card holders and University of Bath staff).
Swim membership is also available at £25 per month for adults, with concessionary rates available on request. The Team Bath membership hotline is 01225 383597. A timetable for public use can be found here: http://www.teambath.com/about/times-prices/swimming
The pool – which is 50m long and 2m deep throughout – got a big thumbs-up from the pentathletes, whose National Training Centre is based at the Sports Training Village.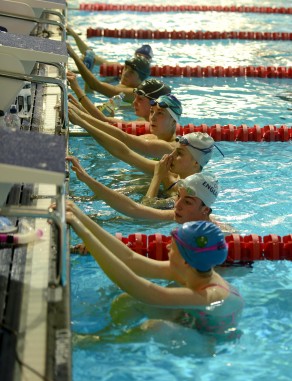 Jamie Cooke, a World Cup winner in the United States this year, said: "They have done a fantastic job with the refurbishment, it looks amazing and it was great to dive into clean water!
"It is nice to be back swimming in Bath and fantastic for our programme to be able to train in a 50m pool again as we approach the main part of the season – the European and World Championships."
The 2015 European Championships – a qualification competition for the Rio 2016 Olympic Games – are taking place at the University of Bath from August 18-23.
Kate French, a World Cup bronze-medalist this season, said: "It will be great to race here – our home pool – against the best in Europe and show them what amazing facilities we have.
"It is so exciting to be back, the whole thing looks incredible."
The extensive refurbishment and upgrade has seen the complete pool tank replaced and state-of-the-art features installed, including underwater cameras and windows which will allow elite swimmers to analyse their stroke in training.
"I've not had chance to do much camera work in the past but having access to that will be very useful," French added.
"Improving the tiniest bit of your swimming technique can knock seconds off your time."
The plant room, which ensures that the pool water circulation system operates efficiently, has also been modernised and the changing room facilities have been upgraded.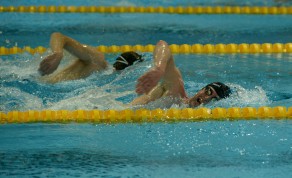 The London 2012 Legacy Pool has been funded, with support from Sport England and UK Sport, by the University of Bath.
The University of Bath is a British Swimming National Training Centre, one of only two in the country, and is the training base for, among others, Olympic silver-medallist Michael Jamieson and Commonwealth Games champions Siobhan-Marie O'Connor and Chris Walker-Hebborn.
Aquae Sulis Performance Swimming Club – whose members include five-time Paralympic medallist and four-time World Champion Stephanie Millward – also train there.
Stephen Baddeley, Director of Sport at the University of Bath, said: "I am delighted that the swimming pool is open on schedule and thank all of our customers, students, partners and staff for their patience during the refurbishment.
"The work has ensured we will continue to provide a world-class facility not only for our elite athletes but also for our students and the public. Nowhere else in Britain offers the opportunity to swim alongside some of the country's top sportspeople."