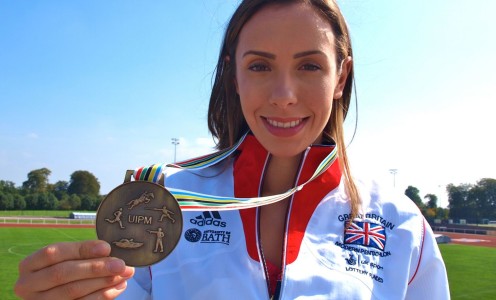 All four of Pentathlon GB's women are through to the final of World Cup 4 in Kecskemét, Hungary after impressive performances in Thursday's qualifying round.
University of Bath graduates Samantha Murray, pictured, and Mhairi Spence – World Champions in 2014 and 2012 respectively – were in fine form in Group C and sat first and second after the fencing and swimming disciplines.
They then eased through the combined run/shoot, with Murray eventually taking spot with 1,045 points and Spence – in her first World Cup for 12 months – fourth on 1,031.
Sports Performance graduate Kate French – a bronze-medalist at World Cup 1 in the United States in February – produced a strong run/shoot to secure seventh place and an automatic qualifying berth in Group A.
Her time of 12:36.0 in the combined event was the fourth fastest overall and gave French a final points tally of 1,041.
Nineteen-year-old Francesca Summers, making only her second World Cup appearance, also produced a determined run/shoot to climb the rankings and finish 12th overall in Group A.
Her final total of 1,018 was more than good enough to ensure she progressed to Saturday's final on points.
Britain's male quartet of Jamie Cooke, Nick Woodbridge, Sam Curry and Tom Toolis will be hoping to repeat the clean sweep in their qualifiers on Friday.
The University of Bath is the home of Pentathlon GB and will also be staging the European Championships from August 18-23. Tickets are on sale now – click here for more information.