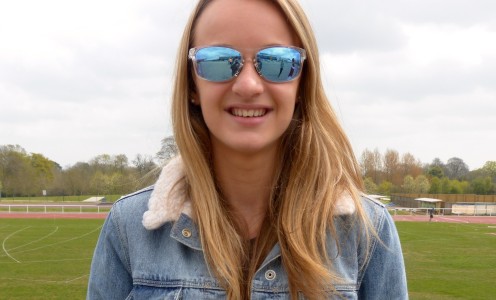 University of Bath students are preparing for a busy Bank Holiday Weekend of sport at the BUCS Outdoor Athletics Championships and BUCS Rowing Regatta.
Both national events will run from Saturday until Monday, with the athletics being staged at Bedford International Stadium.
Among those representing the University will be Biochemistry student Kirsten McAslan, pictured, who won the BUCS 400m title in 2013 and is fresh from helping Great Britain claim 4x400m relay silver at the European Indoor Championships.
The other confirmed University of Bath entrants are:
Men's 100m – Piers Chen, Elliott Prendergast.
Men's 110m hurdles – David King.
Men's 200m – Sam Malpass, Peter Oliver.
Men's 400m – Samuel Bedford.
Men's 400m hurdles – Jack Houghton, Jacob Paul, James Webster.
Men's 800m – Benjamin Everson, Daniel Kelland.
Men's 1,500m – Jack Longmore, Campbell Menzies.
Men's 3,000m steeplechase – Thomas Claassens.
Men's long jump – Joshua Olawore, Ben Pearson.
Men's high jump – Aidan Coree, Alexander Mackintosh.
Men's hammer – Joseph Flitcrt.
Women's 100m – Risqat Fabunmi-Alade.
Women's 100m hurdles – Bethany Close, Kaeshelle Cooke.
Women's 200m – Risqat Fabunmi-Alade, Emily De Beaux, Ciara Flannery.
Women's 400m – Olivia Caesar, Amy Jaramazovic, Kirsten McAslan.
Women's 400m hurdles – Alexandra Hill.
Women's 10,000m – Elinor Davies.
Women's pole vault – Shannon Connolly, Nancy Epsly, Clare Maurer, Anne Rees.
Relays – men's 4x100m, men's 4x400m, women's 4x100m, women's 4x400m.
The BUCS Regatta, meanwhile, will take place at the National Water Sports Centre in Nottingham, where University of Bath rowers will be looking to continue their impressive 2015 form.