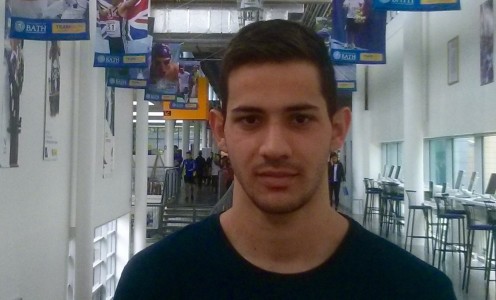 Cypriot swimmer Thomas Tsiopanis believes his move to the University of Bath has provided him with the perfect springboard to compete at the highest level.
Tsiopanis – who celebrates his 22nd birthday on Wednesday – left his homeland in September to begin a Sports Performance degree course and train with head swimming coach Mark Skimming's performance group.
He made the switch on the advice of compatriots Anastasia Christoforou and Omiros Zagkas, two Bath graduates who raved about the facilities at the Sports Training Village.
And it is already paying dividends, with Tsiopanis being selected to represent Cyprus at next month's World University Games in Gwangju, South Korea.
He is one of five University of Bath students preparing for the Games, with fellow swimmer Jay Lelliott, badminton player Angus Pedersen, pistol shooter Kristian Callaghan and tennis ace Alex Walker all in the British squad.
"I knew that the University of Bath was excellent in terms of training – it has become famous in Cyprus because of Anastasia and Omiros," said Tsiopanis.
"I spoke to them and they told me about the brilliant facilities, so I knew I was going to find something good here.
"The new swimming pool is amazing, nothing compared to what we have in Cyprus. We do have some 50m pools but they are all outdoors, so it is cold in winter and very hot in summer.
"I'd never been to the UK before but I wanted to have better facilities and an environment where I can develop my performance. I've definitely noticed an improvement since coming here.
"I know I'm unlikely to get a medal at the World University Games but it is going to be a great experience. I just want to improve my performance, get new PBs and see what happens from there.
"Cyprus is a small nation and being able to compete at those events is very important. In the future, I want to represent my country as much as possible worldwide."
Tsiopanis had the opportunity to do just that last week when he competed in the 16th Games of the Small States of Europe in Reykjavik, Iceland.
He reached four finals and set a new national record of 2:08.00 while finishing fifth in the 200m individual medley. He matched that position in the 200m breaststroke and was just one place outside the medals in the 400m IM.
"I wanted to get a medal but my times were good, all around PBs, so it was alright," said Tsiopanis, who also competed at the 2013 Small State Games.
The World University Games – the second biggest multi-sport event after the Olympic Games – take place from July 3-14.