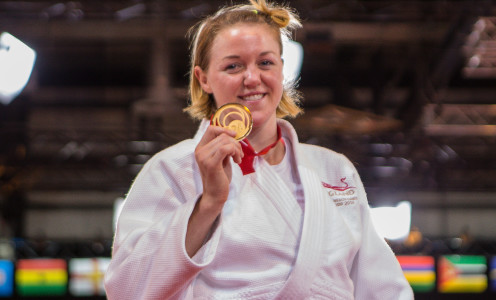 Team Bath Judo Club's Megan Fletcher says she is going into the European Games full of confidence after her gold-medal triumph at the Glasgow 2014 Commonwealth Games.
Fletcher is joined in Baku, Azerbaijan by brother Ben and Gemma Howell, who are all coached by Juergen Klinger at the University of Bath.
And she is targeting another international medal as she pursues her ultimate ambition of qualifying for the Rio 2016 Olympic Games.
"If I can be in the top five, that would be the highest placing I have ever achieved at the Europeans," said Fletcher, who starts her -70kg campaign on Friday.
"In terms of Olympic qualification, I need to be in and around the medals so all I can do is give it my best shot. I am always making progress but the major competitions are where you really put that to the test.
"The Commonwealth Games was the turning point for me, in terms of selections and confidence. I have never experienced the pressure I felt that day before or since, so knowing I can deal with that and perform is invaluable.
"You can't get that experience unless you are in those tournaments. For me, that was the most important thing to take away from Glasgow – the fact that I can deal with that. At the Europeans, and hopefully at the Olympics next year, I'll know I can cope with that pressure."
The European Games will double as judo's European Championships, which were supposed to take place in Glasgow earlier this year before being cancelled following a sponsorship dispute.
"It's not ideal because the World Championships are now only two months after the Europeans, which affects your training," said Fletcher.
"Having said that, you cannot knock having the opportunity to experience another multi-sport event. It is completely different to any other kind of competition you do during the year, so in that respect it will be great.
"It is the first-ever European Games as well, so it is amazing to be part of that. There will be a lot of interest around it."
Younger brother Ben, whose -100kg competition gets under way on Saturday, missed the Commonwealth Games with a knee injury sustained in training just days before the event so he is particularly excited by this opportunity.
"I'm really looking forward to it," he said. "I went to Baku a few weeks ago and it's a really interesting place with a good set-up.
"I'm not going to tell that I'm going to win it. I'm in a very tough category but there is no reason why I can't do well. I'm always competitive with these guys and I just have to give it my all really – all I can do is do my best."
Howell, a Sport & Exercise Science student at the University of Bath, has struggled with injury since competing ay the London 2012 Olympic Games but will be looking to show she is back to her best when her -78kg campaign starts on Saturday.
Sports Performance graduate Gemma Gibbons, who famously won -78kg silver at London 2012, will also be competing for Britain in Baku.
For further information, please contact the Team Bath press office at Matchtight Ltd on 01225 383518 by email at press@matchtight.co.uk