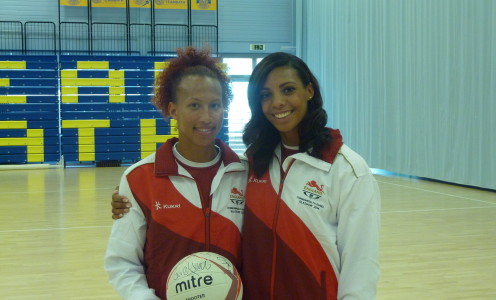 Jess Thirlby says everyone at Team Bath Netball is "over the moon" for Stacey Francis after the defender was named in England's 12-player squad for the Netball World Cup in Australia.
Francis – who won her 50th international cap last month – is joined in the squad by seven former Team Bath players, including captain Geva Mentor and vice-captain Pamela Cookey.
And Team Bath Head Coach Thirlby says the selection is just reward for Francis, who missed the end of the Superleague season with a knee injury but has battled back to full fitness.
"We are absolutely over the moon for Stacey," said Thirlby.
"She was troubled by injury earlier this year but she has left no stone unturned in her determination to first be available for selection and then secure her place in the squad. It is testament to the professional athlete that she is.
"Stacey formed a really good partnership with Sonia Mkoloma in the recent England matches and has done a really good job in demonstrating she can form effective combinations with the other defenders in the squad too."
New England Head Coach Tracey Neville named her squad on Friday afternoon and it includes Team Bath alumni Sara Bayman, Eboni Beckford Chambers, Rachel Dunn, Tamsin Greenway and Serena Guthrie.
The latter captained Team Bath during the 2014 season before moving to New Zealand to play for the SKYCITY Mystics in the ANZ Championships, where she was recently named as Best New Talent.
"We are really chuffed for Serena," Thirlby added. "While she had a fantastic debut season in the ANZ Championship, she plays in the most competitive court area in the squad and has been playing abroad, away from the selectors, so you cannot make assumptions.
"To have eight out of 12 players with Team Bath connections in the squad shows how successful the netball programme here has been and continues to be.
"It also shows the longevity that the impact of training and playing here has had on their career, the kind of character it has instilled in them."
The Netball World Cup will take place in Sydney from August 7-16 and the England squad in full is: Geva Mentor (c), Pamela Cookey (v-c), Sara Bayman, Eboni Beckford-Chambers, Jade Clarke, Rachel Dunn, Stacey Francis, Tamsin Greenway, Serena Guthrie, Jo Harten, Helen Housby, Sonia Mkoloma.
Former Team Bath players Kadeen and Sasha Corbin and Ama Agbeze will also travel as training partners and reserves, along with Natalie Haythornthwaite.
Pictured above are Serena Guthrie and Stacey Francis at the University of Bath Sports Training Village