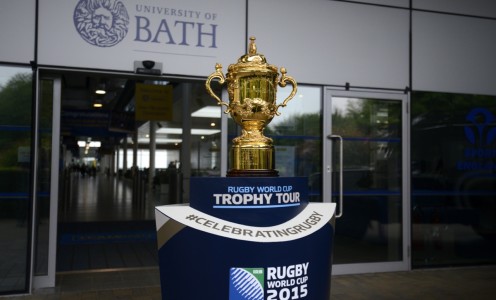 Ahead of this autumn's Rugby World Cup in England and Wales, the University of Bath will host a major World Rugby conference focusing on the scientific and medical aspects of the sport.
The two-day event – which takes place on September 15 and 16, two days before England kick off their campaign against Fiji at Twickenham – will bring together world experts with coaching staff and players, to look at how research can be applied to improve player safety and performance in the sport.
There is a strong tradition of rugby research at the University, with direct impacts on the game.
In 2013, as a result of research carried out within the University's Department for Health, a new scrum engagement technique 'crouch, bind, set' was rolled out internationally. This work is already going a long way to improve player welfare for the 7 million rugby players worldwide.
At the upcoming Conference this September, researchers will share latest findings relating to coaching science, injury prevention, biomechanics, nutrition, physiology, strength & conditioning, psychology and sports medicine.
Featuring input from international experts, day one will be hosted on the University's Claverton Down campus, with day two beamed live from the University of Cape Town in South Africa.
Senior Lecturer in biomechanics and event organiser Dr Grant Trewartha explained: "The World Rugby Science Network is focussed on sharing the best scientific evidence relevant to rugby with the game's practitioners.
"Our first conference will reflect the global reach of the Network by taking place in international locations, with internationally-recognised speakers and reaching a truly international audience via the live webcasts. We hope it will stimulate more rugby research and encourage international collaborations."
Co-organiser and Senior Lecturer in Exercise Physiology, Dr Keith Stokes added: "We are really excited to be organising this conference with the support of World Rugby.
"At a time when the eyes of the world will be focusing on the spectacle of the Rugby World Cup, we will be sharing expert knowledge on a wide range of topics that will improve player development, player performance and player safety on a global scale."
The Rugby World Cup came to the University of Bath on Monday as part of the nationwide Trophy Tour – click here for more information.