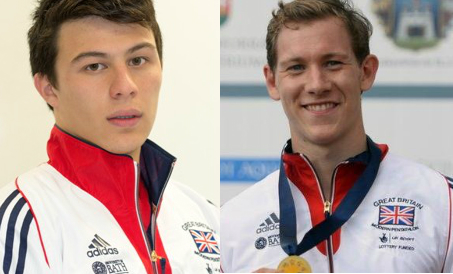 It's where they study, where they train and could be where they set the Olympic qualifying standard – the University of Bath really is home from home for modern pentathletes Joe Choong and Tom Toolis.
The two up-and-coming talents will be among the eight Pentathlon GB athletes competing at the Sports Training Village from August 18-23 when it hosts the European Championships, a qualifying event for the Rio 2016 Olympic Games.
Both have seen their sporting careers go from strength to strength during the past 13 months, with Choong only making his senior debut at last year's European Championships in Hungary.
The Mathematics student, supported by a Ivor Powell Sports Scholarship, has gone on to make the men's individual final at successive World Championships and puts his progress down to the inspirational environment at the University of Bath.
"These facilities are world class," said the 20-year-old. "We can video our technique underwater; we've got a nice running track; we have our own fencing hall we can use every day of the week; and we have unlimited physio and massage.
"I'm definitely learning a lot from my team-mates as well. When I first came here, they were so much better than me. I was good at youth competitions but I've never competed at this level before. Having these guys here is great to catch up.
"I've never felt team cohesion like this before – as competition for places hots up things might change but at the moment we're like the best bunch of mates. We always hang out together, we're always round each others' for dinner, it's a great team spirit.
"I'm going to give qualification for Rio a good go. I'm quietly confident."
Toolis also feels like he is making great strides towards the Olympic Games thanks to some impressive performances on the World Cup circuit this year.
"I was 17th in Rome and 13th in Hungary, then came 22nd at the World Cup Final against the very best around," he said.
"That was amazing – I wouldn't have even qualified last year and getting there wasn't part of the plan at the beginning of this year.
"The fact I've done that has really boosted my confidence and makes me feel ready for the competition to come."
Toolis is studying Sports Performance at the University of Bath and believes his academic career is having a major impact on his sporting prospects.
"I've just finished my third year and have spent it on a placement with British Swimming at the University," he explained.
"I've work on the Sports Science side of things with Ben Hollis under the coaches, David McNulty and Graeme Antwhistle. I've really loved it and I hope that I bring stuff from that into my own training.
"It's great to pick up little tips here and there on how I can improve my performance. Having the camera system in the new London 2012 Legacy Pool is amazing and I know how to use it as well now – that's good to know!"
Toolis, Choong, Jamie Cooke and Nick Woodbridge make up the Pentathlon GB men's squad for the European Championships, with the men's qualifiers on Thursday, August 20 and the final on Saturday 22.
All of the pentathletes are hoping for plenty of home support as they pursue not only a place on the podium but one of the eight Olympic qualifying slots available.
"I am ecstatic to be selected, I can't wait," said Toolis.
"I'm trying to get everyone to come down and watch. My family have already bought tickets, hopefully my friends from back home and around here will come along and we'll get a big crowd.
"Home support is incredibly important – I do well when I have people there pushing me on. Usually my dad comes to all the competitions but to have everyone there will push me on even further. Hopefully I can do the best for them as well as myself.
"My goal for the Europeans is to make the final, then I can go there and have fun. I think the sky is the limit and anything can happen in pentathlon, there are so many variables which makes it such an enjoyable and different sport to watch.
"The combined run/shoot here will probably be the most fun, as you'll have everyone lining the track throughout the 800m so there won't be any time to slack! Having them there, cheering us on will push us to the very finish."
Tickets for the Modern Pentathlon European Championships start at just £6 for adults and £1 for under-18s.
To purchase them or for more information, visit http://www.pentathlongb.org/euros2015/