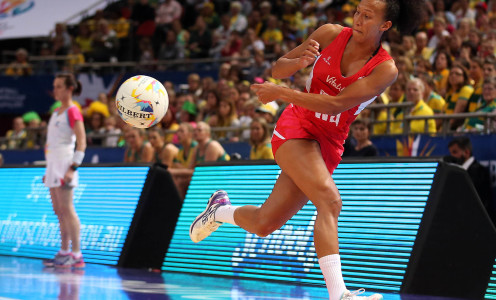 An England side with a strong Team Bath Netball influence put up a real fight before going down 51-41 to defending champions Australia in their opening 'first eight' group match at the Netball World Cup.
Stacey Francis started at wing-defence, while former Team Bath players Geva Mentor, Eboni Beckford-Chambers, Serena Guthrie and Pamela Cookey were also in the seven that took to the Allphones Arena court in Sydney.
And defences were very much on top in the opening quarter, which ended with Australia holding a narrow 12-9 lead.
Guthrie moved to wing-defence midway through the second period as another former Team Bath player, Tamsin Greenway, came on at wing-attack.
England found themselves trailing 25-20 at half-time and a combination of cross-court pressure and passing errors allowed Australia to extend that gap to 39-30 in the third quarter.
But the Roses kept battling away and, despite suffering their first defeat of the World Cup, will remain confident of qualifying for the semi-finals by finishing in the top two in Pool F.
Guthrie said: "I think the beauty of this format is that you get to meet a top-two team and get a check-in before you get to the business end of the competition.
"I think ten goals was the difference today because we threw too much ball away but the good thing is that's an easy fix moving forward and to the semi-final."
Next up is a must-win match on Wednesday (7.20am BST) against a Wales side featuring Team Bath Netball's Kyra Jones.
"They've had a successful competition so far as well and they will be feeling pretty good about themselves," Guthrie added.
"We will have a look at the video tonight and I think we just need to look at ourselves for tomorrow and fix what we want to do and play our own way."
Jones started Tuesday's 'first eight' match against South Africa at centre and helped Wales stay in touch at half-time, just 31-21 down.
South Africa won the third quarter 24-8 to take the game out of reach but Jones returned at wing-attack for the fourth quarter and provided five assists as Wales finished strongly, with the final margin of defeat 68-40.
Team Bath's Claire Brownie played the full 60 minutes for Scotland as they recorded an exciting 37-34 victory over Barbados in their opening 'second eight' match.
Brownie provided 12 assists in total during a game where Scotland led 22-17 at half-time but found that advantage cut to 29-28 going into the final period before digging in to seal victory.
Scotland's next Pool H match is against Sri Lanka on Wednesday (3.20am BST).
(Top) Serena Guthrie in action for England against Australia on Tuesday. PICTURE: Press Association