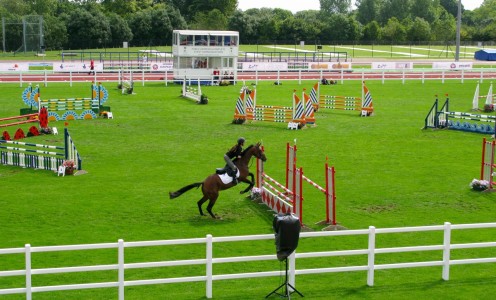 The University of Bath's Sports Training Village has undergone a dramatic transformation as the final preparations are put in place for this week's Modern Pentathlon European Championships.
Most eye-catching of all is the installation of a show-jumping arena in the in-field of the athletics track, complete with temporary stables, ready to host the iconic and challenging ride section of the five-discipline sport.
A laser-shooting range has also been fitted on the athletics field, while the sports hall – which traditionally hosts Team Bath Netball matches, as well as badminton and gymnastics training – has been transformed into a fencing salle.
With the London 2012 Legacy Pool and the athletics track being used for the swim and run respectively, all of the disciplines are taking place on site – making this the most compact modern pentathlon event ever held.
That has gone down well with the athletes and coaches from the 22 nations taking part in the European Championships, a Rio 2016 Olympic Games qualifying event which runs from Tuesday until Sunday.
Lithuania's Lukas Kontrimavicius said: "The facilities here are perfect for me and my team. This is my first competition here in England and I am very happy and excited to be here in Bath."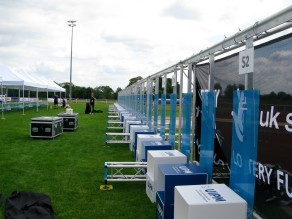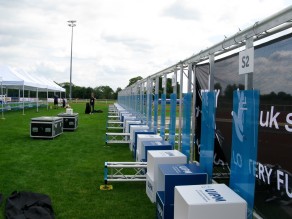 Nearly 150 pentathletes will be competing this week and the majority are staying on site, with the student accommodation being turned into an athletes' village.
Germany's Alexander Nobis, who won men's relay gold at the recent World Championships in Berlin, is no stranger to the campus having competed in the Bath International Competition in April 2009.
"I was here six years ago and since then they have built extra accommodation for the athletes," he said.
"The facilities are good and everything is within walking distance – yeah, it's quite nice."
Jabeena Maslin, who coaches the Pentathlon GB team in show-jumping, has provided 15 horses from her stables in Beaminster, Dorset for the riding discipline.
She has attended five Olympic Games – in Seoul, Atlanta, Barcelona, Beijing and London – and is mightily impressed by the facilities at the £30million Sports Training Village.
"They have done a super job here, the show jumping arena is absolutely wonderful," she said.
"There are some lovely jumps and it is just a lovely venue all round, nice and compact. It's so nice to have everything in one place."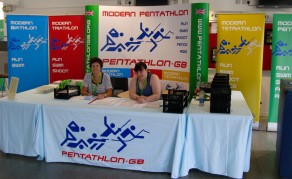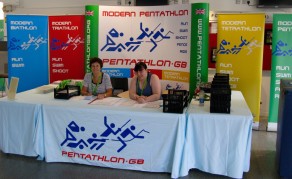 Ensuring success in hosting such a large event requires a dedicated workforce and more than 100 volunteers and officials will be on-hand throughout the week to ensure it runs smoothly.
Workforce leader Ellis Rees said: "The Championships are a great opportunity to get involved in such a big event and to see lots of people who are enthusiastic about sport.
"Modern pentathlon is a really interesting sport – it dates back to training soldiers in the army – and we are expecting a high number of young people to attend. These events are great for keeping the legacy going and inspiring the next generation."
Janet Turner has been volunteering at pentathlon competitions for a number of years after her daughters took up the sport. She has travelled up from Sherborne in Dorset to assist with the show-jumping and the combined run/shoot this week.
"Everything is going well so far, only a couple of minor hiccups which have been easy to iron out," said Turner as she set up fences in the riding practice area – competitors are allotted horses randomly and only have 20 minutes to get used to them before taking on the jumps.
"I have always been impressed with the facilities here in Bath and they are looking great this week."
Michael Powell graduated from the University of Bath this summer with a First in Mathematics and Physics but has returned to the campus as part of the army of volunteers.
"Pentathlon is a very diverse sport and I knew some of the athletes already so it seemed logical to help out and get stuck in," said Powell, who was sports editor of bathimpact, the University's student newspaper.
"Having such a big event on our doorstep is great. It's not every day you see an event that offers Olympic qualifying in Bath."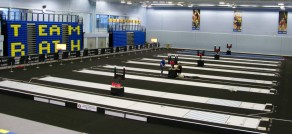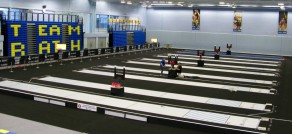 Spectators are being encouraged to turn out in force for the European Championships, with tickets priced at just £1 for under-18s and from £6 for adults.
As well as seeing world-class sport in a world-class venue, there will be a host of activities and entertainment to enjoy in the Spectators' Village including the chance to try some of the pentathlon disciplines.
Celebrated Bath equine artist Kate Ward, who has been commissioned as the official artist of the European Championships, will have her paintings on display and there will be live music, as well as barbecues and a bar over the weekend.
Stephen Baddeley, Director of Sport at the University of Bath, said: "After the months of planning and hard work that has gone into preparing for this major event, we are excited that the European Championships are finally here.
"It was certainly very different to look out onto the athletics field today and see horses jumping over fences but it just shows how adaptable these facilities are and what a first-rate job the workforce and volunteers have done in ensuring we are all set for the week ahead.
"We are proud to welcome the athletes and coaches of 22 nations to the University of Bath and we are sure they will enjoy the facilities here at the Sport Training Village.
"It is a huge week of competition, with medals and Olympic qualification places to be won, and I would encourage people to come along, enjoy some elite sport in inspirational surroundings and give the athletes your support."
The European Championships is part of UK Sport's National Lottery funded #EveryRoadtoRio series, which is helping Britain's top athletes prepare and qualify for the Rio 2016 Olympic and Paralympic Games.
Competition gets under way on Tuesday with the mixed relay, starting at 10am. The women's and men's relays both take place on Wednesday from 9am.
The individual competitions begin on Thursday with the men's qualifier, followed the next day by the women's qualifier. The respective finals are on Saturday and Sunday, with eight Rio 2016 Olympic qualification places available on both days.
To purchase tickets or for more information, visit pentathlongb.org/euros2015.