University of Bath-based athlete Eilidh Child will contest the women's 400m hurdles final at the IAAF World Athletics Championships in Beijing after enduring a nervous wait in the semi-finals.
Child, coached by Malcolm Arnold at the Sports Training Village, needed a top-two finish in the Bird's Nest Stadium on Monday to automatically qualify and was well placed coming off the last hurdle.
However, she lost momentum and finished third behind Cassandra Tate of the USA and South Africa's Wenda Nel in a time of 54.80.
With two more semi-finals to come, Child did not think that would be quick enough to secure one of the two additional qualifying places but it was and she can now look forward to a second successive World Championships final having finished fifth in Moscow two years ago.
The final will take place on Wednesday at 1.10pm BST and will be shown live on BBC2.
Training partner Lawrence Clarke is also in action on Wednesday as he starts his 110m hurdles campaign (4.20am BST).
Clarke, who this summer completed a Masters degree in Management at the University of Bath, is in confident mood and cannot wait to compete at the stadium which hosted the 2008 Olympic Games.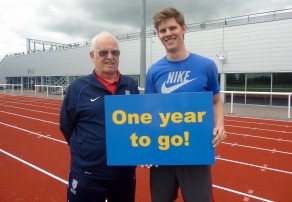 "I went to the Birds Nest Stadium eight years ago when I was 17, to watch," he said. "I've always said I would love to run there and now I will line up on that start line in the best shape of my life.
"I have those memories of Dayron Robles winning gold at the age of 21 and David Oliver, the current World Champion, winning bronze. Watching those Olympic Games inspired me to take up athletics, it made me want to run.
"The season began at a relatively slow pace for me but the target was always to peak at Beijing.
"I ran the qualifying time in 2014 and I am in much better shape this year, so I knew I would be able to do it again but every single race up until July was in adverse conditions – the wind gods seemed to be against me.
"I finally got the qualifying time on July 14 and I have ran it three times since then, so that has boosted my confidence heading to Beijing."
Sports Performance graduate Danny Talbot also believes everything is going perfectly to plan as he prepares to make his World Championships debut in Beijing, China.
The 24-year-old was an unused member of the 4x100m relay squad at the 2011 championships in Daegu, South Korea and was controversially overlooked for selection in 2013.
Talbot ran a 200m personal best of 20.30 in Lucerne, Switzerland last month to achieve the qualifying standard for Beijing and he is confident he will be at his peak of his form when the heats start on Tuesday (12.05pm BST).
"We've been building and building throughout the season and it's all starting to come together at the right time," said Talbot, who is coached by Dan Cossins at the Sports Training Village.
"We've based training around what happened last season. I ran my best time and won the British trials in June but didn't really push on after that.
"I finished seventh at the Commonwealth Games and then got knocked out in the semi-finals of the European Championships when I thought I could have won two medals, so the big aim this year is to peak later.
"We're following what Adam Gemili did last year – he was only second in the trials but ended up running his best times when it really mattered at the big championships and that's all anyone remembers.
"In athletics you have to be very patient and always have belief. I'm sure when I was running 20.6 at the start of the year that people were thinking 'Danny's not running as well as he was, he's not going to make the team' but me and my coach knew what the plan was.
"I am massively up on everything in training compared to previous years. I have done a lot of 400m work so my endurance is better than at any other point in my career.
"I haven't lost any speed either and the fact I've run a personal best without tapering off only bodes well. I've had faith all season that as long as I was in Beijing, that's when my best time would come."