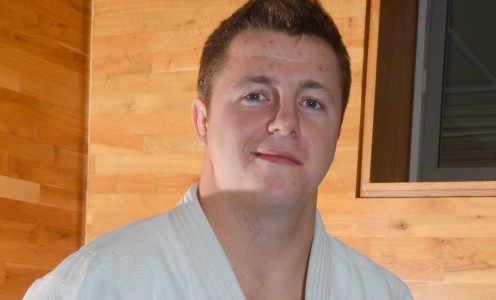 Team Bath Judo's Ben Fletcher built on his first-ever Grand Prix medal in July by reaching the last-16 at the 2015 World Judo Championships in Astana, Kazakhstan.
Fletcher's progress, which was ended by eventual-finalist German Frey Karl-Richard, meant he has now earned enough qualification points to book a spot in the 'green zone' for Olympic qualifying – occupied by athletes who are in a direct qualification position.
23-year-old Fletcher, who trains under Juergen Klinger at the Sports Training Village, took the positives from his Championships performance.
He said: "It is good to win two fights and get some important qualification points which will take me closer towards direct qualification.
"Regarding my last contest there is not much to say, I lost fair and square," continued Fletcher. "He is a top player and he had a good day today. However, I believe he is someone I can beat in the future. It was just a bridge too far today."
In the women's -78kg competition, University of Bath graduate Gemma Gibbons finished seventh after a quarter-final defeat by Anamari Velensek of Slovenia.
Gibbons had seen off USA's Samantha Bleier with a waza-ari and former world champion Kyong Sol of North Korea thanks to an astonishing left sided ouch-gari.
Despite placing in a World Championships for the first time, the London 2012 silver-medallist expressed her frustration at her final position.
She said: "All in all I have mixed feelings. This is the first time I placed at a World Championships so that's nice but I didn't come here to place, I came here to medal.
"I am pretty frustrated for not being able to turn my last two fights into wins," continued the 28-year old. "However I think – and the result shows – that I am getting better and getting back to the level I know I can be and the level where it is a very small margin whether I am on the podium or not."