When Australia arrive at their Rugby World Cup training camp at the University of Bath next week, they will become the latest national team to hone their preparations for a major championships at the world-class Sports Training Village.
It was the training base for the England rugby union team during Brian Ashton's reign as head coach, which included the 2007 Rugby World Cup in France.
England were defending champions at the time and went on to reach a second successive final, where they narrowly lost out to South Africa.
Bath Rugby head coach Mike Ford, who was part of Ashton's coaching team for the tournament, has fond memories of the Sports Training Village.
"The facilities here at the University are second to none – we got to a World Cup final on the back of training here," said Ford.
"Australia are a world-class side and they pick their venues really, really well. They'll enjoy their time here."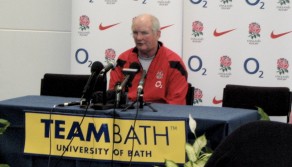 The South Africa and New Zealand rugby union teams have also trained at the University of Bath during Autumn tours of the Northern Hemisphere.
Like Australia will during their stay, the All Blacks used both the excellent outdoor pitches and the STV's highly-versatile sports hall for training sessions.
New Zealand team manager Darren Shand said: "We knew that the facilities here are at the top end and having the option of training indoors or outdoors is always good for us."
It is not only union teams who have made use of the facilities at the £30million Sports Training Village – the Great Britain rugby league squad has also trained here in the past.
The University of Bath hosted the main preparation camps for Paralympics GB ahead of the hugely-successful London 2012 Games.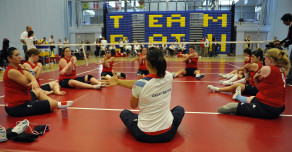 Athletes from around the world also used the STV's renowned training and sports science facilities to fine-tune their preparations ahead of the Olympic Games that year, including the Chinese swimming squad and Malaysian badminton team.
Sunderland, Nottingham Forest and Coventry City are among the many football clubs who have staged training camps at the University of Bath, which is also the proud home of the Southampton FC Academy (Bath).
And it was the training base for New Zealand's netballers ahead of the Glasgow 2014 Commonwealth Games, where they finished runners-up to Australia.