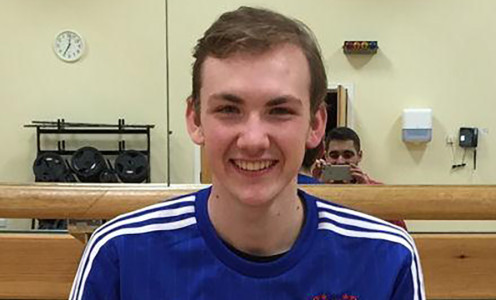 Piers Gilliver continued his medal-laden year by winning silver at the 2015 Wheelchair Fencing World Championships in Eger, Hungary.
And it was mighty close to gold for Gilliver, who began training full-time at the University of Bath this year, as he was edged out 15-14 by China's Gang Sun in a thrilling A Category men's epee final.
Sun took the sole automatic qualifying place available for the Rio 2016 Paralympic Games but Gilliver is well on course to join him there after the runners-up spot cemented his status as number one in the overall world rankings for 2015.
He has won gold medals at two World Cups and two Grand Prix so far this season, which has just one more event to go – the World Cup in Paris, France next month.
Gilliver, whose lead coach is Baldip Sahota, moved his training base to the Sports Training Village after receiving funding from UK Sport's World Class Programme. He is a Podium level athlete, which means he is seen as having a realistic possibility of winning a medal at Rio 2016.
And he demonstrated that talent once again in Hungary as he won all six of his poule bouts to make comfortable progress to the last 32.
A 15-1 victory over Germany's Maurice Schmidt and 15-4 win against Martyn Kavalenia of Belarus put Gilliver into the quarter-finals where he faced world number three Roman Fedyaev of Russia.
Gilliver – who celebrated his 21st birthday last week – won a tough contest 15-12 and then recorded an excellent 15-8 victory over China's Jianquan Tian in the semi-finals before narrowly missing out on another gold medal.
He also reached the quarter-finals of the Category A men's foil competition, where he was beaten 15-5 by China's Ruyi Ye.
Gilliver trains with fencers from Pentathlon GB, the University of Bath Fencing Team and Bath Sword Club at the Sports Training Village.