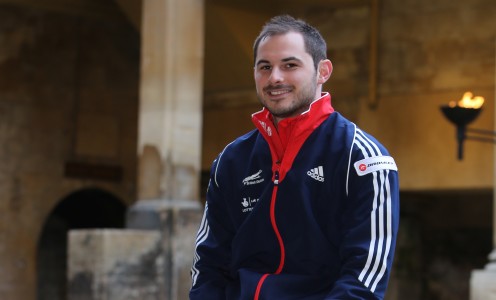 British Skeleton ace Laura Deas backed up her maiden BMW ISBF World Cup win with a fourth-placed finish in Winterberg on Friday.
University of Bath student Dom Parsons, pictured, was seventh in the men's event and there were some strong finishes on the bobsleigh circuits during another encouraging weekend for British Bobsleigh & Skeleton Association athletes.
Deas, fresh from topping the podium in Altenberg in the opening race of the season, was again in the mix in Germany and sat third after her first run before finishing just two-tenths of a second outside the medals.
The result sees Deas sit second in the overall IBSF World Rankings, with a trio of Germans in and around her after back-to-back races on their own tracks.
Mechanical Engineering PhD student Parsons – who is supported by the University's Dual Career programme – built on his ninth-placed finish in Altenberg to move up to eighth in the global standings.
Ed Smith came 19th and David Swift 21st in the men's race, while Donna Creighton was 14th in the women's competition.
Next up for Britain's top five sliders is another trip to a German track as they head across to Kongissee for Race Three of the eight-race World Cup calendar this weekend.
Elsewhere, in the European Cup, Jor'dan McIntosh marked her return to the ice with a fine eighth-placed finish in the circuit opener in Altenberg – a remarkable result given that it comes less than 18 months after she suffered a brain haemorrhage that left her wondering whether she would ever return to the sport.
Jack Thomas and James Howard also kicked off their EC campaign by finishing 11th and 13th respectively, with just 0.15 seconds separating the British sliders over the two heats.
Kenny Howard and Jerry Rice placed seventh and 13th in Race 3 and eighth and 15th in Race 4 of the Intercontinental Cup competition in Whistler on Wednesday and Thursday.
The weekend's bobsleigh action saw Lamin Deen finish eighth at the ISBF World Cup in Altenberg in the four-man bob with John Baines, Joel Fearon and Andrew Matthews.
Three of the pilots on the BBSA's Accelerated Driver Programme (ADP) – Bruce Tasker, Brad Hall and Ben Simons – competed on the European Cup circuit at one of the world's toughest tracks in Altenberg.
And they dealt with the difficulties of the German track head on, despite having only had a week's practice at the venue.
The trio, who have all established themselves among the nation's leading brakemen, are only in their second season as pilots but still saw off some top crews to finish ninth, tenth and 11th in Race Three of the two-man season.
Tasker and Mark Lewis-Francis led the way for the Brits in a field of 22, followed by Hall and Tremayne Gilling and Simons and Simeon Williamson, with just 16 hundredths of a second separating all three crews.
In the women's race, Mica McNeil and Natalie DeRatt were seventh, with Russia and Germany the only nations to finish above the Brits.
"I'm delighted with the progression being shown by these drivers, especially when you consider the fact that they've only been at Altenberg for a week," said Great Britain Bobsleigh Performance Director Gary Anderson.
"These guys are world-class athletes and that's why they are on our programme but we've taken them from brakeman to pilots and they've gone out to one of the world's toughest tracks and achieved fantastic results.
"They've beaten seasoned pilots who have been on the ice for many years, and they've done that on an incredibly difficult track. That track holds no fear for them now.
"Mica sets very high standards for herself so we always expect her to be knocking on the door of the podium.
"But while seventh may look a little way off, when you consider that the only athletes who were in front of her were seasoned Russian World Cup pilots and Germans racing on their home track, there isn't anyone else who is really causing her problems at the moment."