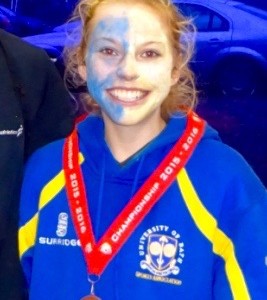 Sporting scholar Jenny Nesbitt booked her place at the World University Cross-Country Championships with a top-three finish at a muddy British Universities & Colleges Sports [BUCS] Championships in Gloucester.
The Sports & Social Sciences student, who is supported by a Trendell Sports Scholarship, was making her first BUCS appearance for the University of Bath and wore blue and gold face paint to mark the occasion.
And she produced a battling performance at a very wet and windy Plock Court to finish third out of 583 runners behind University of Birmingham athletes Pippa Woolven – a Glasgow 2014 Commonwealth Games steeplechaser – and Rebecca Murray in 21:30.
In her RunWithASmile blog, Nesbitt wrote: "A tough battle with some super speedy girls left my legs feeling like jelly as I crossed the finish line. What a great experience, though, and it was even better to have such amazing support around the course.
"Finishing in third was an added bonus and helped to numb the pain from the rain and wind."
Nesbitt – who helped GB win U23 team gold at the European Cross-Country Championships in December – can now look forward to the World University Championships, taking place in Cassino, Italy on March 12.
Fellow University of Bath student Jessica Gibbon was 20th overall on Saturday and runner-up in the U20 category in 23:02. Alice Rogers was 81st in 24:48 and Claudia Kelsall 108th in 25:20.
Samuel Griffiths was the top University of Bath runner in the men's race, placing 147th out of 334 finishers in 36:18. Russell Adams was 158th in 36:34, Campbell Menzies 178th in 37:17, James Tidd 241st in 39:36 and Brian Glynn 250th in 40:03.