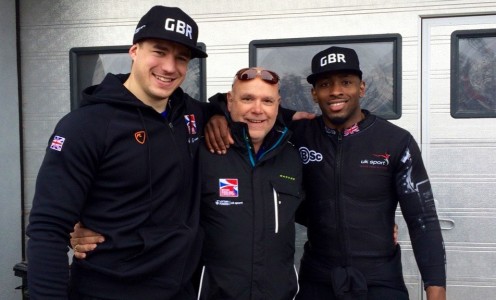 The University of Bath-based British Bobsleigh & Skeleton Association is celebrating its best two-man bobsleigh result on the global stage for 50 years.
Bruce Tasker and Joel Fearon finished fourth at the World Championships in Igls, Austria on Sunday, just two-tenths of a second outside the medal places.
The result was all the more impressive as it was Tasker's first appearance at a World Championships as a pilot – he still competes as a brakeman for the four-man team, who will be in action on Saturday.
"I still can't believe it – I'm pinching myself," said Tasker. "It's amazing to know that is our best result since 1966, I don't really know what to say to that.
"All I wanted was four consistent heats, and I knew if I got that I'd end up with a result I'd be happy with. The result that we did end up with was far, far better than I could ever have imagined and I'm absolutely over the moon.
"We've been searching for two-man results for a number of years now. We've been known as a bit of a four-man nation. We're trying to change that with our Accelerated Driver Programme initiative and this is more confirmation that the programme is working."
Fearon, who represented GB at the 4x100m relay in the World Athletics Championships in 2013 and has a personal best of 10.10 seconds, only returned to bobsleigh at the end of the summer after a year back in athletics.
"It's one of my best bobsleigh moments ever – I couldn't have even dreamed about this when I decided to come back," he said.
"It's surreal, it's better than any dream I've ever had, and we can still get better at the start so I hope there's more to come.
"I'm very proud of Bruce. I'm honoured to be a part of this team and I'm just so happy that things are moving forward in this year."
Brad Hall and Ben Simons also impressed for GB as they finished 17th in what was also Hall's debut World Championships as a pilot.
Mica McNeill and Natalie DeRatt finished 12th in a closely-contested women's bobsleigh competition, just 33-hundredths of a second outside the top ten.
The World Championship focus turns to skeleton next, with the men's competition starting on Thursday and the women's on Friday.
The BBSA tweeted the above picture of Bruce Tasker, Performance Director Gary Anderson and Joel Fearon after their fourth-placed finish