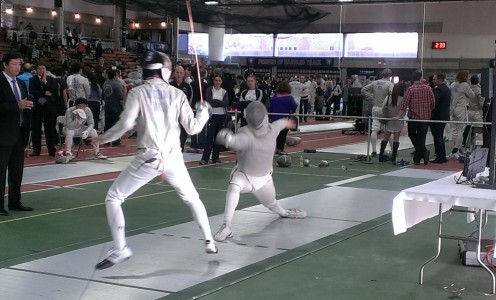 University of Bath sporting scholar Noah Rogerson gained valuable international fencing experience when he represented Great Britain at the prestigious Boston Grand Prix in the United States.
More than 300 elite sabre fencers – including two Olympic champions and five World Championship gold-medallists – took part in the event at the historic Harvard University, one of the last competitions in the Rio 2016 Olympic Games qualifying calendar.
Rogerson, a Mathematics student who is supported by a Santander Sport Scholarship, wrote about his experience for Team Bath…
"My day started in the preliminary rounds where the top 16 in the world are exempted and the rest of the field are split into poules of seven who fence to five hits to rank the fencers for the later knock-out rounds.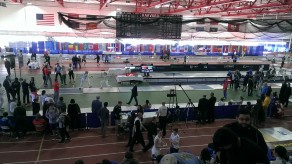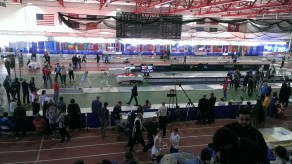 "My poule had a good spread of fencers from around the world including a Hungarian, an Argentinian, a Vietnamese fencer and a Hong Kong fencer. I won two fights, against the Japanese number one and the top-ranked junior fencer in the world from America, and lost the other four fights very narrowly.
"After the poules, 30 percent of the fencers are cut and the rest enter the knock-out phase to find which 64 fencers advance to the second day. I made the cut but unfortunately was knocked out in my first fight, my opponent then going on to beat a top-ranked Canadian in his next fight.
"The scale of the competition is what most surprised me. It was the very peak of my sport involving the superstars of fencing and the very men who convinced me I wanted to become a fencer. Every fight was hard fought – these men's very careers were affected by their results and, with only a limited number of spots for the Olympics available, every hit was important and every loss hard felt.
"I learnt a lot at this competition, including that the best fencers in the world are still beatable and all it takes is real belief to back yourself in every hit. I want to take this new lesson into every fight competition I attend and hopefully start beating these guys."