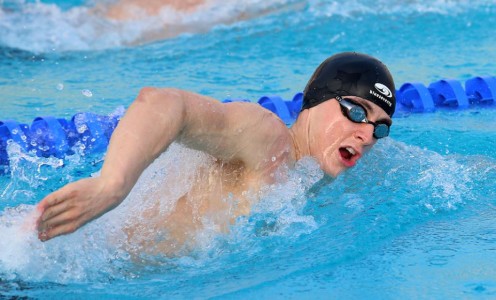 Pentathlon GB trio Francesca Summers, Sam Curry and Tom Toolis gained more valuable experience when they competed in high-quality Modern Pentathlon World Cup finals in Cairo, Egypt over the weekend.
With Rio 2016 Olympic Games qualification points on offer, the standard of competition was extremely high throughout the week as reflected by five of the youthful Pentathlon GB squad going out in the qualifying rounds.
Reigning World Junior Champion Summers went on to finish 22nd in a women's final won by current senior World Champion Lena Schoneborn, while University of Bath graduate Curry (pictured) and Sports Performance student Toolis were 28th and 33rd respectively in the men's final.
Pentathlon GB Performance Director Jan Bartu said: "Francesca performed extremely well in tough conditions; her fencing was good and she went clear in the ride which was fantastic.
"She should be very happy with her performance; this has definitely been the most demanding and difficult performance of her career to date and it has been a massive learning experience for her. It's great to have a young athlete like Francesca coming through the ranks who is so ambitious and hardworking.
"Both the boys really struggled at the beginning of the fencing session and it took them around five or six rounds to start producing the results we expect to see from them.
"They both swum well but I felt the standard of riding wasn't as testing as it should be at World Cup level and we saw a lot of clear rounds. It boiled down to the combined event and there was definitely a gap between the running ability of our boys and that of the rest of the field.
"Making it to the final is very important and has been extremely valuable for both Sam and Tom in securing Olympic ranking points.
"We will go home now and regroup as there is a short turnaround before we fly out for the second World Cup. We need to move on, get the training sessions in and, most importantly, mentally prepare for the next competition where we hope to see better performances."
That competition is World Cup II from March 10-14 in Rio de Janeiro, a test event for this summer's Olympic Games.
Pentathlon GB's national training centre is based at the University of Bath.
Picture of Sam Curry in Saturday's final courtesy of UIPM