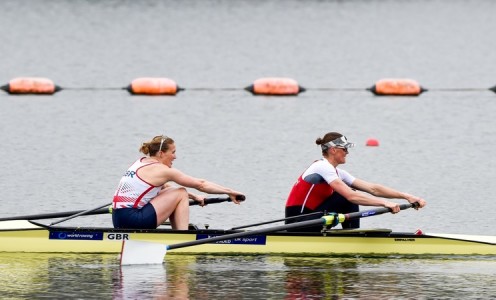 Helen Glover, Heather Stanning and Vicky Thornley were all victorious once again at this week's GB Rowing Team Trials, the latest major step on the road to the Rio 2016 Olympic Games.
All three are graduates of the highly-successful GB Rowing Team Start talent ID and development programme at the University of Bath Sports Training Village.
Glover and Stanning – reigning Olympic, World and European champions – were red-hot favourites to win the women's pair race and did so with victory by more than ten seconds in the final.
"It's good to get the Trials done and know we are in as good a shape as we thought we were," said Glover. "We see it as the start of the season rather than the peak of any kind."
Stanning, a Sports Technology graduate and recent inductee to the University of Bath Hall of Fame for Sport, added: "We have a great working combination between the two of us and with our coach, Robin [Williams].
"It's exciting to get back in the boat every year, it's not like putting old slippers on – they're not worn out, there's still lots to come."
It was a third successive GB Trials win for the pair, as it was for Thornley in the women's single scull.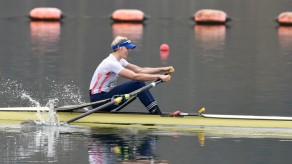 In the absence of the injured Katherine Grainger, Thornley's potential double sculls partner for the Olympics, the former Bath rower was the class act in the field and also recorded a convincing victory.
"I was confident I could win the race," said Thornley. "I wanted to put down a competitive time. It felt like a nice scull, felt consistent through the middle and I was quite pleased with it.
"It's really important to prove to the coaches and yourself at these Trials that you have moved on and you are in a good place. I really wanted to stamp my authority on today and I felt I did that.
"When it sinks in that I've won an Olympic Trials, that will be a nice feeling. I've put myself in the best position to be in a good boat, so that's all I can do."
Two recent graduates of the Bath Start programme, Frazier Christie and Sam Courty, gained more valuable experience as they reached the B finals of the men's and women's single scull respectively.