Twelve teams from seven universities competed in the England Touch Universities' Touch Series (UTS) Finals day at The Sulis Club.
The University of Bristol Honeys won the tournament, beating University of Exeter Green 7-6 in a drop-off after a captivating final.
Two 'home' teams were entered by the University of Bath, the Hawks and Panthers, with the former finishing fourth overall after losing 6-2 in the third-placed play-off to Loughborough University, who have won the last two UTS tournaments.
The Hawks had topped their group, beating Oxford University 4-2, Exeter Yellow 7-2 and Exeter Red 6-0, before losing the cup semi-final 6-0 to eventual winners Bristol Honeys.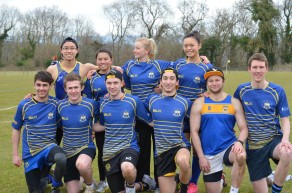 Panthers came second in their group after losing 6-0 to Loughborough but beating Bristol Badgers 4-2 and Exeter Pink 2-0. They faced Badgers again in the Plate semi-finals but lost 4-3 in a drop-off and were then beaten 4-2 by Oxford in the seventh-place play-off.
Exeter Red claimed the Plate, while the Bowl competition was won by UTS newcomers Royal Veterinary College. Their touch club was set up this year by University of Bath Sport & Exercise Science placement student Elaine Burch, who was part of the Hawks team that won the 2015 Touch Nationals.
RVC beat Exeter Yellow 3-2 in the Bowl Final, with Southampton winning the 11th-place play-off against Exeter Pink.
The University of Bath has a good record in touch rugby, with Sport & Exercise Science placement student Dom Tripp recently becoming the first Englishman to play in Touch Football Australia's National Touch League Elite 8 competition.
Tripp had previously represented the England Men's Open team at the 2015 Touch World Cup along with Sports Performance second year student Will Serocold.
Anyone interested in playing touch rugby at the University of Bath should contact UBRFC Touch Co-ordinator Will Serocold on unibathtouch@gmail.com or ws366@bath.ac.uk.