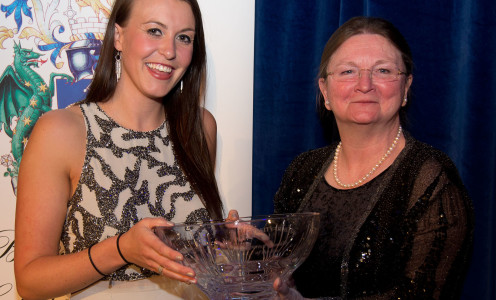 Natasha Starling was named as the University of Bath's Sports Personality of the Year during a great night for tennis at the annual Blues Awards ceremony.
The Business Administration student topped a poll of members of the Students' Union Sport from a shortlist that also included fellow tennis player Alex Walker, swimmer Jay Lelliott and archer Lizzy Rees.
She was presented with her award by the University of Bath Vice-Chancellor, Professor Dame Glynis Breakwell (pictured).
Starling, who has won five BUCS gold medals and one bronze during her four years at the University, also received a Full Blue and The David VandeLinde Prize for sporting accomplishment, leadership and academic success. The latter came with £400 in prize money.
She is also captain of the women's tennis 1sts, who were named as Team of the Year after winning both the Premiership South and a fourth-successive BUCS Championships during 2015.
The Blues Awards ceremony, which took place at the Assembly Rooms in Bath, is an annual celebration of student sport.
Among those attending were Olympic champions Jason Gardener and Amy Williams; double Paralympic medallist Ben Rushgrove; Premier League referee Lee Probert, who recently officiated the men's football during the Varsity match against Cardiff Metropolitan; and Team Bath Netball's South African duo Karla Mostert and Lenize Potgieter.
Holly Clemens, SU Sports Officer, said: "Words cannot describe how impressed and pleased I am to have worked, supported and witnessed the success of so many student athletes, volunteers and coaches this year.
"It was a genuine honour to present the award winners with their certificates and is only a part way of thanking them for their contribution to student sport this year.
"I wish all those graduating the best of luck and to those who are staying with us for another year, I can't wait to see what else you have to offer and look forward to seeing student sport progress once again over the next 12 months."
Full details of all the award winners, plus more pictures, can be found at http://www.bathstudent.com/news/article/busu/The-Annual-Blues-Awards-full-results/
2016 Roll of Honour
Sports Personality of the Year
Natasha Starling (tennis)
Shortlisted: Jay Lelliott (swimming), Lizzy Rees (archery), Alex Walker (tennis)
BUCS Team of the Year
Women's tennis
Women's badminton
Men's lacrosse
Club of the Year
Trampoline
Cheerleading
Badminton
Gethin John Bevan Club Member of the Year
Hannah Lawless (rugby), Lauren McCann and Kim Wilkinson (rowing)
The David VandeLinde Award
Natasha Starling (tennis)
The Tugendhat Trophy
Ben Oswin (lacrosse)
Honorary Blues
Henry Milton (football)
Emily Purpuri (trampoline)
Full Blues
Fiona Burnet (hockey)
Lizzy Rees (archery)
Natasha Starling (tennis)