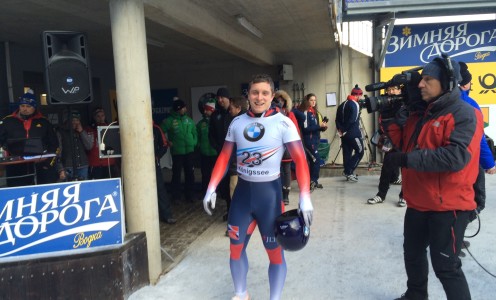 University of Bath-based GB Skeleton slider David Swift has announced his retirement from the sport after almost a decade representing his country on the international stage.
The 31-year-old from Devon joined the GB programme in 2006 and has featured in more than 80 senior races, including two World Championships.
A winner of the overall Intercontinental Cup (ICC) competition in 2015, the former sprinter was consistently one of the fastest starters in the world and was British Champion in 2008 and a silver medalist at the World Junior Championships the same year.
He won Europa Cup Gold in St Moritz, Switzerland in January of this year – an achievement which earned him a Team Bath Athlete of the Month award – and his final race for GB saw him finish 16th in the World Championships in Igls, Austria two months ago.
"Swifty has been a fantastic servant to GB Skeleton over the past ten years," said GB Skeleton Performance Director Andi Schmid. "He has had a hugely positive impact on his team-mates and coaches and the sport as a whole and we thank him for his significant contribution to the programme
"From winning the British Championships and a World Junior Championship medal to claiming the overall ICC title, his achievements should not be underestimated – nor should his longevity and commitment to the cause.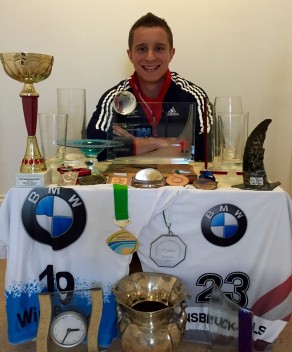 "To see him win his first international race earlier this year was a wonderful moment and the reaction he received from the squad and the general public showed just how popular he is with his peers.
"We wish him all the best in the future and we are sure he will make a success of life after skeleton."
Swift featured in ten World Cup races; 59 ICC events; 12 Europa Cup competitions; two North Americas Cup races; two World Championships; a European Championships and a Junior World Championships between November 2007 and February 2016.
"I have loved every minute of the last 10 years representing Great Britain," he said. "However, I feel I have now achieved everything I am capable of in the sport. I'm disappointed not to have made an Olympic Games but I am so proud of everything I have achieved and will have absolutely no regrets moving forward.
"It's funny, in my first weeks of sliding I hated the sport but now, 10 years later, it's going to leave a huge hole in my life. I never imagined myself flying down a mountain at 90mph face first with no brakes but I wouldn't change it for the world! I have lived a life many only dream of and have met a huge number of incredible people along the way.
"There comes a time where real life sort of catches up with you, and I have to acknowledge that. I never came into the sport for money – I wanted to chase a dream, and I've lived that dream.
"From winning a race and hearing the national anthem at the birthplace of our sport, to being a test pilot at the Sochi Track in the lead up to the 2014 Winter Olympics, there are far too many memories to mention, all of which put a huge smile on my face."
Swift admits the decision to retire had been on his mind over the past few months and finishing in Innsbruck ten weeks ago – a track where he started his career; enjoyed his best-ever World Cup result of seventh; and shone at the World Juniors – has brought his journey appropriately full circle.
It also meant that the four-run race against the globe's greatest sliders carried extra significance for Swift, for whom improving his position run after run was the best possible way to say 'thank you' to all those who played a part in his lengthy career in the sport.
"Going into the World Championships I was 90% sure it was going to be my last race – it's the reason I had thank you messages on my hands and shoes – and, after discussions with the coaching staff and performance team, I came to the conclusion to call it a day," added Swift
"I had my first ever race in a Europa Cup in Innsbruck and to finish at the same track in a World Championships has a really nice symmetry to it.
"There are far too many people to thank over the years but, to everyone who has had a part in my career, I am incredibly thankful for all your work and couldn't have done it without you. Whether it's athletes, coaches, sponsors, the whole GB Skeleton programme or family – a huge 'thank you' to you all.
"I'm excited for the challenges that lay ahead but will also be keeping a close eye on my skeleton family and cheering them on. Skeleton is part of my life and always will be, and I wish all of my teammates the best of luck in the future."