Team Bath Netball's Karla Mostert and Lenize Potgieter found themselves on opposite sides when they contested the Brutal Fruit Netball Premier League final in their native South Africa on Saturday.
And it was Mostert – the Team Bath Supporters' Player of the Season – who emerged on the winning side as she produced a player-of-the-match performance to help the Free State Crinums to a 52-43 victory over Potgieter's Gauteng Jaguars.
It was the third year running that Jaguars had lost to Crinums in the final.
Mostert and Potgieter, who helped Team Bath finish third during the 2016 Vitality Netball Superleague season, will once again be back on the same side this summer when they represent South Africa against Wales in three international tests.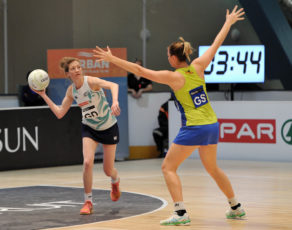 The Welsh touring squad includes two Team Bath players, Chelsea Lewis and Amanda Varey.
Meanwhile, Team Bath Netball Head Coach Anna Stembridge and Director of Netball Jess Thirlby will be leading a three-hour evening coaching masterclass at the Sports Training Village on June 23, priced £35 per person – click here to book or for more information.
Carter Jonas are Team Bath Netball's property partner, Surridge are the Team Bath kit supplier and Skins provide the team with compression wear.
Thanks to BackpagePix for the pictures of Karla and Lenize during the cup final