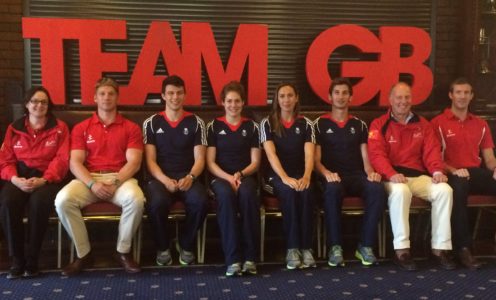 Pentathlon GB's Joe Choong, Jamie Cooke, Kate French and Samantha Murray today became the latest University of Bath-based athletes to be selected to represent Team GB at the Rio 2016 Olympic Games.
The quartet were officially confirmed as being Britain's modern pentathlon representatives during a team announcement at Hyde Park Barracks in London on Wednesday.
All four train at the University of Bath, which has proudly hosted Pentathlon GB's National Performance Centre since 1999 during which time five medals have been won in the sport across four Olympic Games.
Murray is among those medalists, having memorably won Team GB's 65th and final medal of London 2012 with silver on the last day of the Games, and she is ambitious to continue that history of podium finishes in Rio this summer.
"That has been my goal now for four years, to become the first British female pentathlete to win medals at two Olympic Games," said Murray, a French & Politics graduate.
"Having competed at London I now know what it's all about, I know what it's like to compete at the Games, and I feel like I know what it takes to get on the podium again.
"It's really exciting – to represent Team GB is an amazing honour and I'm really looking forward to doing it again."

Murray will be joined in the women's competition on August 18-19 by Sports Performance graduate French, whose Olympic journey was inspired by the bronze medal won by Georgina Harland at the Athens 2004 Games.
"I started doing Pony Club tetrathlons when I was young and Georgina came to a prize-giving one year," French explained. "She brought her Olympic medal and I was able to hold it. I remember thinking 'I'd like one of these one day!'.
"Competing at an Olympic Games would mean so much to me, it's something I've wanted to do from a very young age. To be on that plane to Rio is a dream come true."
Cooke will make his Olympic debut ranked as the number-one male pentathlete in the world after winning two gold medals on the international stage already in 2016.
He set the qualification standard for London 2012 but missed out on selection, with only two Olympic places available per gender per nation, so is determined to make the most of this opportunity.
"Not being selected in 2012 was a huge disappointment and made me question a lot of things but it also drove me to be the best I can be over the last four years," said Cooke, a former World Junior Champion.
"Hopefully I can get out there in Rio and show that all hard work has paid off.
"The British women have won Olympic medals at the past four Games and that drive to be better has created success. We want to try and emulate that in the men's squad and we are working as hard as we can."
Joining Cooke in pursuing a first-ever British men's individual Olympic medal is Choong, who is a Mathematics student at the University of Bath.
"The Olympics has been a dream since I started the sport in Year 9 at school," said Choong, who – like French – qualified via a top-eight finish at the 2015 European Championships, staged at the University of Bath.
"When you start a sport and start doing well, you always keep looking at the next level and thinking bigger, and it doesn't get any bigger than the Olympics.
"I watched London 2012 and that definitely motivated me to try and get to the next Games. It's a big moment for me."
Today's announcement takes the number of confirmed University of Bath-based athletes in the Team GB squad up to eight, following the selection of swimmers Jazz Carlin, Siobhan-Marie O'Connor, Chris Walker-Hebborn and Andrew Willis last month.
Stephen Baddeley, Director of Sport at the University of Bath, said: "Congratulations to Joe, Jamie, Kate and Samantha on their selection for Rio. We get to see just how hard they train every day to excel in five different disciplines – and, in Joe's case, fit in his studies – so they have very much earned this accolade.
"We have had a very strong and successful partnership with Pentathlon GB for almost two decades and we wish all the athletes and support staff well this summer as they seek to continue that proud tradition of bringing Olympic medals back to the University."