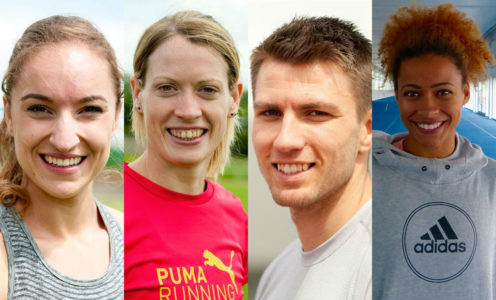 Four British Champions from the University of Bath were today officially selected in the Team GB athletics squad for the Rio 2016 Olympic Games.
Hurdlers Eilidh Doyle and Andrew Pozzi – both trained by Malcolm Arnold at the Sports Training Village – will be going to their second Games, as will 400m runner Emily Diamond, while long jumper Jazmin Sawyers will make her Olympic debut.
Joining the quartet on the plane to Rio will be University of Bath graduates Lawrence Clarke, who finished fourth in the 110m hurdles final at London 2012, and 200m runner Danny Talbot, who was part of the 4x100m relay squad four years ago.
All of the athletes qualified for Rio through their performances at the British Championships and Olympic Trials in Birmingham last month.
Doyle will contest the 400m hurdles and 4x400m relay – she was European Champion in the former in 2014 and won gold with Diamond in the 4x400m relay at this year's championships, which took place in Amsterdam last week.
"I was absolutely delighted to win the British Championships and secure that spot, it's such a relief," she said. "Training has been going well and everything has been geared towards Rio but you can't really relax and fully focus on it until you get that selection nailed down.
"We were probably one of the most successful centres at the Trials with four British Champions and four outright qualifiers for Rio. We also had a bronze medal for Dave King [in the 110m hurdles] and a lot of finalists as well.
"It is really encouraging for the University and for us as athletes, to see all that hard work paying off."
Like Doyle, training partner Pozzi also qualified for London 2012 but pulled up with injury during his heat and was sidelined by various setbacks for much of the next three years.
He has made a storming return this year, though, and ran a personal best of 13.31 – a time he has matched twice more during 2016 – to win the British 110m hurdles title.
"It was absolutely amazing to win the Trials," said Pozzi. "The last one I was able to compete at was actually in 2012 ahead of the last Olympics, I've been injured pretty much ever since then.
"It feels great to be back racing again and I can't wait to get out to Rio."
Diamond, who works mornings as an administrator in the sports department at Prior Park College, has been selected for her second Games but will be making her first on-track appearance after being an unused member of the 4x400m relay squad at London 2012.
"I kind of expected that as I was only young and had just started in the 400m, so to make the Rio team this year – not only in the relay but in the individual too – is a dream," said Diamond, who has sliced seven-tenths of a second off her personal best this season.
"I still can't quite believe it. I keep watching all the promotional clips for Rio they are releasing and have to calm myself down, it's so exciting.
"Four Bath athletes all winning at the Olympic Trials and qualifying is fantastic for the University. Having not only British Champions but future Olympians training here can only be good for the venue."
Sawyers, who is coached by Alan Lerwill and also does some work with James Hillier's training group, may have been selected for her first Olympics but she is no stranger to the international stage.
Last week she added European Championships long jump silver to the medal of the same colour she won at the Glasgow 2014 Commonwealth Games. She also competed at the Winter Youth Olympics in 2012, winning a historic silver medal for Britain in the two-man bobsleigh with Mica McNeill.
"I was so happy to achieve automatic selection for Rio at the British Trials," said Sawyers. "I'm now so excited for my first Olympic Games."
Both Clarke and Talbot, who graduated in a Business Masters and Sports Performance respectively, qualified for Rio by finishing in the top two at the Trials.
Today's announcement takes the number of University of Bath-based athletes selected for the Rio 2016 Olympic Games up to 15.
Already confirmed are Ben Fletcher (judo); Joe Choong, Jamie Cooke, Kate French and Samantha Murray (modern pentathlon); Jazz Carlin, Siobhan-Marie O'Connor, Chris Walker-Hebborn and Andrew Willis (swimming); Marcus Daniell (tennis); and Sonny Webster (weightlifting).
Selected alumni include defending Olympic champion Heather Stanning (rowing) and Heather Olver (badminton).
Paul Blake (athletics) and Piers Gilliver (wheelchair fencing) have been selected for the Paralympic Games, along with alumni Alexandra Rickham (sailing) and Louise Hunt (wheelchair tennis).
Click here to stay up-to-date with all the latest Rio 2016 news and find out more about our selected athletes.