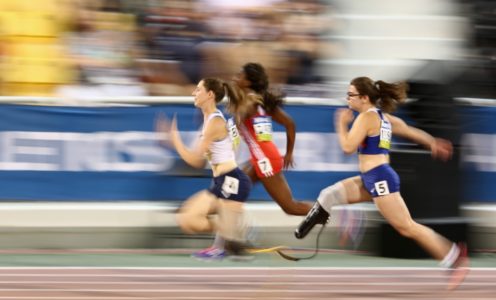 Sophie Kamlish strengthened her claim for a Rio 2016 Paralympic Games place by setting a new national record at the IPC Grand Prix Final in London on Saturday.
The 19-year-old, coached by Rob Ellchuk at the University of Bath, ran 13.35 to finish runner-up to T43 World Champion Marlou van Rhijn in the women's T44 100m at the Queen Elizabeth Olympic Park.
"So glad I could get a new PB/NR in front of such a great home crowd," tweeted Kamlish, who will find out if she is heading to her second Paralympic Games when the final ParalympicGB athletics squad is announced on Tuesday. Training partner Paul Blake has already been selected.
Kamlish wasn't the only Sports Training Village-based athlete to set a new personal best at the Muller Anniversary Games on Saturday, with Rio-bound Olympian Andrew Pozzi slicing 0.12 off his previous 110m hurdles standard to win his heat in 10.19.
Pozzi, coached by Malcolm Arnold, had to pull out of the final after suffering cramp but is confident he will be fully fit for the Olympics.
"Delighted to have run a PB and be healthy going to Rio," he tweeted. "Support was amazing as ever. Apologies to those in the stadium for not running the final. Rio is the goal though and couldn't risk injury."
There was also frustration for University of Bath graduate Lawrence Clarke, Pozzi's former training partner, as he was disqualified from the final following a false start.
David King, coached by James Hillier at the STV, clocked 13.77 to finish fifth in the heat won by Pozzi.
A last-hurdle stutter meant Eilidh Doyle had to settle for fourth place in the women's 400m hurdles on Friday in 54.70.
"I felt I was going strong up until the last hurdle but I just stuttered into it and lost all momentum," said Doyle, part of Arnold's training group.
"I just want to go to Rio now and come off the track knowing I've given it everything and with my head held high. If that wins me a medal then that's a bonus."
Emily Diamond, another Rio-bound British Champion who trains at the University of Bath, ran her second-fastest time of the year – 51.63 – as she finished seventh in the 400m.
Meanwhile, University of Bath student Cameron Chalmers was the fastest European U20 400m runner when he represented Great Britain at the IAAF World Junior Championships in Poland last week.
The 19-year-old, coached at the STV by Dan Cossins and Colin Bovell, ran a new personal best of 46.51 as he finished third in his semi-final, putting him ninth overall.
Inspired by the Muller Anniversary Games? Want to train in the same facilities used by Olympians and Paralympians as they prepare for Rio 2016? Team Bath Tribe are running a series of fun athletics camps during the school holidays – click here for more information.