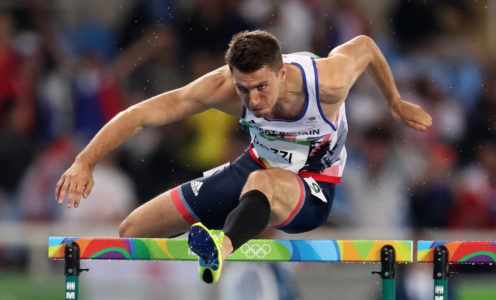 Jazmin Sawyers and Eilidh Doyle will contest their first Olympic finals on Thursday and Friday respectively after coming through their semi-finals in the early hours of Wednesday morning.
However, it was a disappointing night for fellow University of Bath-based athlete Andrew Pozzi (pictured) and Business Masters graduate Lawrence Clarke as both failed to qualify for the men's 110m hurdles final.
Sawyers, making her Olympic debut at Rio 2016, cleared 6.53m with her last jump to claim the 12th and final qualifying place for the women's long jump final, taking place at 1.15am BST on Thursday.
She is confident of improving now that she has got her first Olympic appearance out of the way, saying: "It was different – it's hard to qualify and you can see that by the fact that there are a lot of amazing jumpers that didn't.
"I'm not happy with how I jumped and all I was thinking was I can do better – but I get the chance to, because luckily I put myself in a position just to be able to do that.
"I get the chance to go again tomorrow and overnight work out exactly what went wrong – I've got some ideas – and fix it because tomorrow is where it counts.
"There's a fine line between 'it's just long jump' and 'this is the biggest thing ever'. I've got be able to absorb that energy, enjoy it, enjoy it for being the Olympic Games whilst at the same time going 'you know how to do this'.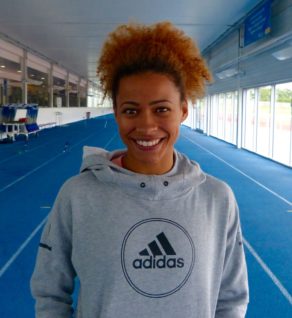 "It's just run and take off and I didn't quite get that right today, I got a bit overwhelmed but at least I know what to expect."
Doyle, coached by Malcolm Arnold, was denied a top-two finish in her 400m hurdles semi-final by a fast-finishing Ashley Spencer but her time of 54.99 was good enough to secure a place in Friday's final (2.15am BST).
"I stepped off the track knowing that I gave it everything there," said the former European Champion. "I raced that very well, nice stride pattern, nice and smooth. I think Malcolm would be happy with that run – a lot happier than he was yesterday anyway!
"I have made it now. I have a day off tomorrow. I can go back and relax and get ready for the final.
"I think I can go into the final confident too. It's the best feeling ever, I'm delighted. I knew it wouldn't be easy. When people say that you are ranked sixth in the world, it doesn't really mean anything when you get to an Olympic Games because everyone raises their game.
"I have just put myself in a position where I can challenge in the final. It is completely open, no-one is really dominating the event and it will be just about who gets it right on the day. If I can just run my fastest time in the final then I will be delighted."
Training partner Pozzi had a night to forget as he ran an uncharacteristically messy 110m hurdles semi-final, clattering a number of hurdles as he finished fifth in 13.67.
"It was a no go from the start really," he said. "I'll be honest, I really can't describe what went wrong because there was nothing that went right in that race.
"From the moment I left the blocks it was just uncomfortable, I just didn't get into the race at all and I was hitting hurdles left, right and centre like I had never been over one before.
"It was just abysmal. I've never, ever run that badly and I can't begin to describe why."
Clarke, fourth at London 2012 and part of Arnold's training group until last year, was sixth in the second semi-final in 13.46.
"I gave it my all and halfway through the race I realised that I was a bit out of it and I needed to put more in," he said.
"I clipped a hurdle and then I clipped another and it wasn't to be but going into this championships I wasn't ranked to make the semi.
"You know I've loved every minute of this Championships and every minute of the last four years apart from the injuries and the hard work! This has been amazing and I can't thank people enough."
There was better news for Sports Performance graduate Danny Talbot, who set a new lifetime best of 20.27 to finish runner-up in the first 200m heat and progress to Thursday's semi-finals (2am BST).
"It felt very good, I was surprised at the time because it felt quite easy," he said. "I'm just so happy to get through. I train all year to enjoy moments like this – I don't train all year to feel the pressure.
"I literally just take championships one race at a time, one day at a time so for me it was all about coming in the top two. I know what I can do – I'm very confident in my ability and hopefully I am able to show everyone what I am capable of in these championships."