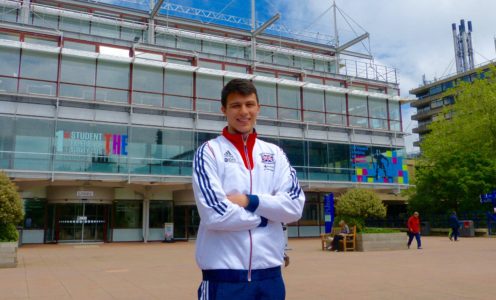 University of Bath student Joe Choong enjoyed a strong start to his Olympic debut as the fencing ranking rounds got the Rio 2016 modern pentathlon competitions under way on Thursday.
Choong, who studies Mathematics and is supported by an Ivor Powell Sports Scholarship, secured 22 victories from his 35 bouts in the Deodoro Youth Arena.
That was the fourth-highest number of hits but an unfortunate late red card cost him a ten-point penalty and dropped him to eighth overall.
Team-mate Jamie Cooke finished in a tie for 28th place with 14 victories but his strongest events are still to come in Saturday's final.
Choong said: "Even with that ten-point deduction it's the best score I've had, so it puts me in good stead for Saturday.
"It definitely gives me confidence because if I look at my previous results I haven't fenced this well. Also, I've not had a perfect ride so as long as my riding goes well I'll be really close to the medals.
"I've loved my time in Rio so far, I've been smiling like a little child! Obviously it's my first time at an Olympics so I'm really enjoying the atmosphere and the village."
The women's competition saw Sports Performance graduate Kate French finish in a tie for 15th with 17 victories, while London 2012 silver-medallist Samantha Murray was joint 28th after winning 14 of her bouts.
The rest of their final takes place on Friday, starting with the swimming at 4.20pm BST followed by the fencing bonus round at 6pm BST. The ride starts at 7.30pm BST before the combined run-shoot decides the medals at 10pm BST.
French said: "I definitely think I can make up some ground – we've got another four events to go, so it's certainly not over yet.
"I was really looking forward to it this morning, I warmed up well. I can be proud of how I did, it just took me too long to get going."
French and Politics graduate Murray, the 2014 World Champion, added: "Fourteen victories is the worst I've fenced this year. I know I didn't fence very well and didn't do myself justice and for that reason I accept what I scored.
"Because it's the Olympics Games, the best thing I can do is go out and enjoy it because it is a great opportunity, it is an experience, and that's what I intend to do.
"My focus is still on making the top ten, I'm not focussing on a medal. I have the swimming, which is my strongest event next, and I'll try to execute a really good ride.
"The final event, the running and shooting, is where you can make up the most ground in pentathlon, so I'll just go and run my best and be as accurate as I can in the shooting.
"I know if I cross the line and know I've given it everything then I can walk away feeling happy."
Team GB's four modern pentathletes all train at the University of Bath, proud home of Pentathlon GB's national training centre. Click here to find out more.