The University of Bath will be looking for an immediate return to winning ways when they play host to Northumbria University in the BUCS Super Rugby league tonight (6.30pm kick-off).
The match will once again be played on the athletics in-field at the University of Bath, overlooked by the balcony behind the Sports Café, and admission is free.
Last week's 15-10 home defeat to Durham University was a first setback of the season for the Blue and Gold, who had won their opening three matches in the new national competition.
One of those successes was against Northumbria at Kingston Park in Newcastle last month, an impressive 38-17 victory as Bath showed their battling qualities by rallying from an early ten-point deficit.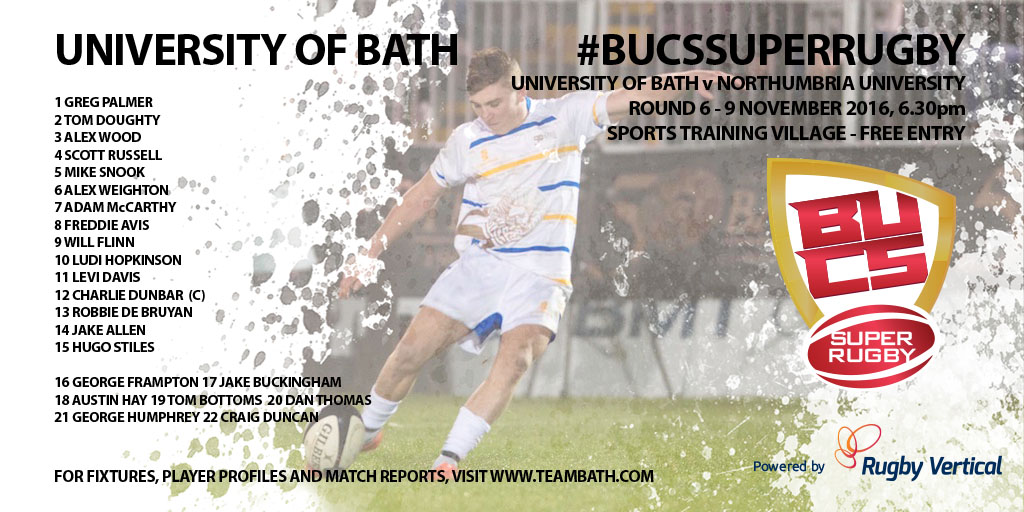 Captain Will Britton has been ruled out of tonight's rematch, meaning centre Charlie Dunbar will wear the armband.
Scott Russell comes in to replace Britton as one of five changes to the XV that started last week's match against Durham. He is joined in a new-look second row by Mike Snook, Greg Palmer returns at loosehead prop, Freddie Avis starts at number eight and Robbie De Bruyan comes in at outside centre.
University of Bath starting XV: 1 Greg Palmer, 2 Tom Doughty, 3 Alex Wood, 4 Scott Russell, 5 Mike Snook, 6 Alex Weighton, 7 Adam McCarthy, 8 Freddie Avis, 9 Will Flinn, 10 Ludi Hopkinson, 11 Levi Davis, 12 Charlie Dunbar (c), 13 Robbie De Bruyan, 14 Jake Allen, 15 Hugo Stiles.
Replacements: 16 George Frampton, 17 Jake Buckingham, 18 Austin Hay, 19 Tom Bottoms, 20 Dan Thomas, 21 George Humphrey, 22 Craig Duncan.
Northumbria University starting XV: 1 George Williams, 2 Louis Musetti, 3 Jamie Ross, 4 Ed Bloodworth, 5 Matt Solway, 6 Mike Walton, 7 Matt Jenkinson, 8 Oli Robinson, 9 James Christie, 10 George Wacokecoke, 11 Charlie Parkhouse, 12 Aedan Moloney, 13 Jonny Haldane, 14 Luc Simpson-Kent, 15 Ryan Murray.
Replacements: 16 Tom Williams, 17 Jake Ellwood, 18 Henry Hawhood, 19 Tom Cooksey, 20 Sam Taylor, 21 Dav Cook, 22 Tom Richardson.
Referee: Robert Bourke.
Assistant officials: Adam Wookey, Mark Doran.