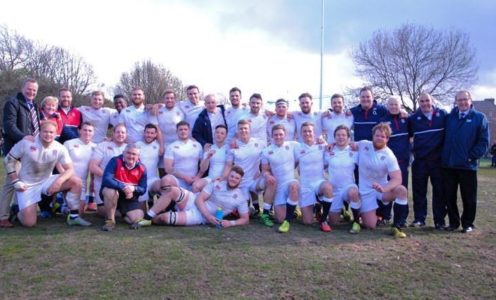 University of Bath duo Will Britton and Charlie Dunbar both started for England Rugby Students during Sunday's entertaining 36-36 draw with Ireland.
Second-row forward Britton, who studies Sport & Social Sciences, and centre Dunbar, a Sport & Exercise Science student, were both called up for their country after impressing for the Blue and Gold 1st XV – sponsored by IKON Construction – during the inaugural BUCS Super Rugby season.
Sunday's closely-contested match in Oxford saw the lead exchange hands on several occasions before England looked to have snatched victory with a converted try in the dying stages, only for Ireland to immediately respond in kind.
England Head Coach Aaron James, who is also Head of Rugby at the University of Bath, said: "We would like to have won but we did well to get the draw. We let Ireland get away in the middle period but we came back well and it was quite an exciting game."
Britton, Dunbar and their team-mates were presented with their Red Roses shirts before the match by senior England coach Eddie Jones.
England Students have now moved on to Bristol where they will continue training in preparation for Friday's clash with French Universities at the Coombe Dingle Sports Complex.
First-year Sport Performance student Levi Davis was also on international duty over the weekend as he started for England U19 in their 35-22 away defeat to France.
Davis, supported by a Trendell Sports Scholarship, has represented the Blue and Gold in BUCS Super Rugby this season and also helped them win the Red Bull 7s European title for a third year running.
Click here to read a Bath Chronicle interview with Davis on his England U19 experience.