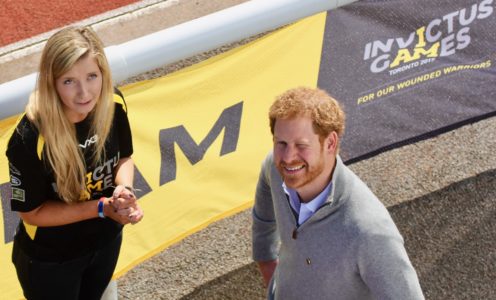 HRH Prince Harry returned to the University of Bath Sports Training Village today (Friday) to watch and support hundreds of athletes competing in trials for the 2017 Invictus Games.
The Invictus Games Foundation Patron joined the crowds cheering on track and field athletes and rowers as they looked to earn their place in the UK team for this year's Games in Toronto, Canada.
Prince Harry also met with the serving and veteran servicemen and women who are using sport as part of their recovery.
Before heading to the indoor and outdoor athletics tracks, Prince Harry visited the STV's multi-purpose jumps and throws hall to meet with the Rugby Football Union Injured Players Foundation (IPF) and discover how IPF-funded research at the University is helping to improve player welfare and reduce players' injury risk.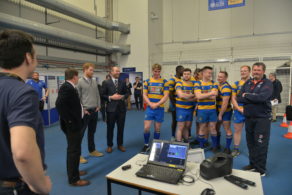 Visiting in his capacity as IPF Patron, Prince Harry met researchers who have led advances over the past decade in developing new injury prevention techniques and protocols for rugby union. He also watched demonstrations of the team's IPF study, involving members of the University's rugby team, which assessed the impact of forces involved in the tackle (click here to read the full story).
Prince Harry was welcomed to the University of Bath by Steve Egan, the University's Vice-President (Implementation). It is the second successive year that the Invictus Games Trials have taken place at the Sports Training Village.
Stephen Baddeley, Director of Sport at the University of Bath, said: "We are proud and honoured that the Invictus Games UK Trials are once again taking place here. It is a truly inspirational event and another outstanding demonstration of the Sports Training Village's capabilities to host multi-sport and disability-sport competition.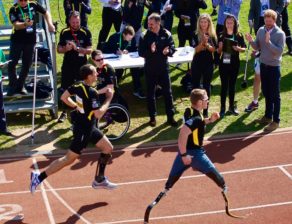 "It was also a pleasure to welcome Prince Harry back here and great that he had the opportunity to see the pioneering research in high-performance sport being done at the University."
Among the sportspeople taking part in the trials was Scott Meenagh, a double amputee who lost both his legs after stepping on an IED (Improvised Explosive Device) while serving in Afghanistan in 2011.
Supported by the Help for Heroes Sports Recovery programme, Meenagh has won rowing medals at the past two Invictus Games but this year is trialling for the athletics team.
"I'm trying something I've wanted to do for a long time and I'm loving it," he said. "I've done the 100m, 200m, 400m and 1,500m today and really enjoyed it.
"Prince Harry is such a fantastic patron for the Invictus Games. He really gets the Invictus spirit and understands what it is. He doesn't just show up for the photoshoots, he really rolls his sleeves up and gets involved. You can really relate to him because he has our best interests at heart.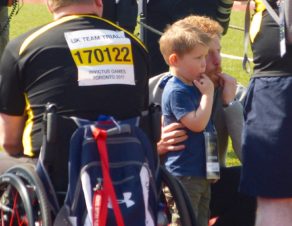 "The University of Bath is like another world, I'm absolutely blown away by all the sporting facilities here. It's also been incredibly easy for us in terms of access and all the staff have been awesome – it's just been a great event so far and hopefully that's how it will continue for the weekend."
As well as athletics and rowing, trialists will also be competing in archery, cycling, golf, powerlifting, sitting volleyball, wheelchair basketball, wheelchair rugby, wheelchair tennis and swimming.
The Invictus Games set out to harness the power of sport to inspire recovery, support rehabilitation and generate a wider understanding and respect for our wounded, injured and sick servicemen and women.
The UK team, which is sponsored by Jaguar Land Rover, will be selected based on the benefit the Invictus Games will give an individual as part of their recovery, combined with performance and commitment to training.
This year's Games will run from September 23-30 in Toronto. Tickets and further details are available at http://www.invictusgames2017.com/