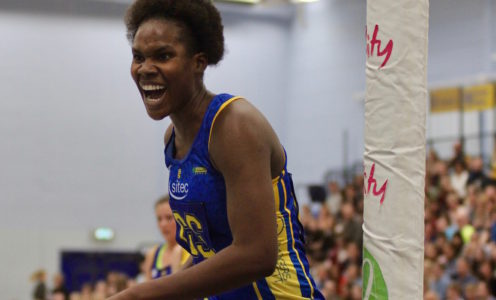 Team Bath Netball produced an outstanding performance to hold off a fierce fightback from Wasps and record a memorable win in a sensational game of Vitality Netball Superleague at the University of Bath on Monday.
The Sitec-sponsored Blue and Gold were in fantastic form in both defence and attack as they forged into a 44-35 lead going into the final quarter of a match sponsored by The Royal High School, Bath, and shown live on Sky Sports.
However, the introduction of former Team Bath players Tamsin Greenway and Rachel Dunn revitalised Wasps – who had won their previous seven games – and they managed to claw themselves level at 52-52 with just a minute remaining.
Team Bath were determined to take the win, though, and showed tremendous mental strength and character to regain the lead before – roared by the deafening home fans – securing a 55-53 success.
It is their fourth win on the bounce and moves them level on points with Surrey Storm in the battle to secure a spot in the Final Four.
Head Coach Anna Stembridge said: "What a great game! Credit to both sides for the caliber of netball shown tonight.
"It was a real squad effort from us again and a really big third quarter to push the score out. It's all starting to come together and that 60-minute performance is not far off, I am so proud of everyone's contribution.
"We knew Wasps were going to come back hard in that last quarter and it was a little disappointing how we got a bit stuttery but we dug deep to see it through.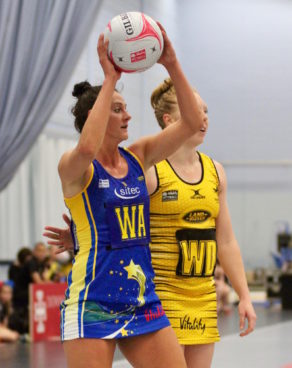 "The fans were absolutely fantastic, they really were our eighth player and definitely lifted the team when they needed it. We are so grateful for the way they have turned out week in, week out to get behind us."
Player of the match Rachel Shaw added: "It was a great game – a bit touch and go towards the end but we managed to get there!
"We stuck to our game plan and managed to push the lead out a couple of times but let them back in, so we need to look at that consistency going forwards.
"It was a great win, though, and the fans were incredible so a massive thank you to them."
Team Bath went into the game on the back on three straight wins and looked in confident mood during an outstanding first quarter where they were dominant at both ends of the court.
Eboni Beckford-Chambers and Layla Guscoth were inspirational in defence, while Chelsea Lewis made the most of the many turnovers to give the hosts a 14-10 lead at the break.
Lewis moved to GA for the second period as Shantal Slater came into the action at GS and quickly scored three in a row as Team Bath stretched their lead to eight goals.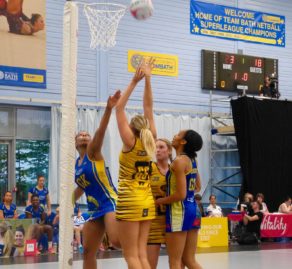 However, Wasps are flying high in the table for a reason and they fought back strongly, forcing errors from the home side that shooter George Fisher punished.
At half-time the home side's lead was down to 27-25 but they regrouped for the third period and, with Jess Shaw on at C and Vangelee Williams at WD, regained the momentum.
A rapid start saw the lead stretch to seven goals and, with the Shaw sisters providing excellent service to Slater and Lewis, that grew even further to 44-35 at the end of the quarter.
Wasps sent on the experienced Dunn and Greenway for the final 15 minutes and they had a big impact as the home side's lead was slowly whittled away. Tension was growing in the Arena as the visitors closed in and they eventually drew level with just a minute remaining.
Slater held her nerve to score from Team Bath's centre pass and another magnificent interception from Guscoth proved critical as it allowed the hosts to double their advantage.
The roof nearly came off the Arena when Slater scored again, meaning Dunn's late goal was academic as Team Bath recorded an incredible win.
Watching the match were representatives of Team Bath's family of sponsors and backers. They included Professor Dame Glynis Breakwell, Vice-Chancellor of the University of Bath.
Team Bath will face another new franchise in their final home match of the 2017 season as Glasgow-based Sirens visit the University of Bath Sports Training Village on Friday, May 19 (7.45pm).
Tickets – priced £12 for adults, £8 concessions and £35 for a family ticket ­– are on sale now at www.teambath.com/events/ticketline or by calling 0844 888 4412.
Before then, Team Bath will travel to Newcastle to face Team Northumbria on Monday, May 15.
Tonight's match was preceded by an U21 Netball Performance League fixture between Team Bath and table-topping Wasps, who overcame spirited opposition to record a 61-41 victory.
Team Bath Netball are sponsored by Sitec, Mogers Drewett are their Education Partners, Centurion Wealth Management are supporting the team's performance analysis capabilities, Surridge are the kit supplier and Skins provide the team with compression wear.
Match stats
Team Bath Netball
Starting seven: GS Chelsea Lewis, GA Laura Rudland, WA Rachel Shaw, C Mia Ritchie, WD Imogen Allison, GD Layla Guscoth, GK Eboni Beckford-Chambers. Replacements: Shantal Slater, Paige Reed, Jess Shaw, Vangelee Williams, Sam Cook.
Changes: Q2: Slater – bench to GS; Lewis – GS to GA; Rudland – GA to bench; Jess Shaw – bench to C; Ritchie – C to bench. Q3: Williams – bench to WD; Allison – WD to bench. Q4: Allison – bench to WD; Williams – WD to bench.
Wasps Netball
Starting seven: GS George Fisher, GA Natalie Haythornthwaite, WA Lucy Harris, C Bongi Msomi, WD Sam May, GD Hannah Reid, GK Josie Huckle. Replacements: Rachel Dunn, Amy Flanagan, Tamsin Greenway, Lucy Parize, Fran Williams.
Changes: Q3: Flanagan – bench to C; Msomi – C to WA; Harris – WA to bench. Q4: Williams – bench to GD; Reid – GD to bench; Greenway – bench to WA; Dunn – bench to GS; Fisher – GS to bench; Huckle – GK to bench.
Quarter scores (Team Bath first)
Q1: 14-10. Q2: 27-25 (13-15). Q3: 44-35 (17-10). Q4: 55-53 (11-18).
Attendance: 900.