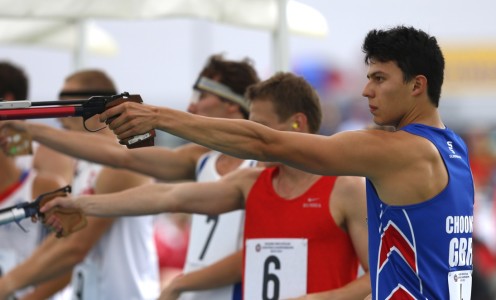 Laser Run is the thrilling finale to every Modern Pentathlon competition, especially at the Olympic Games, and Team Bath is delighted to be hosting the first in a brand new national series of this event where jogging meets Star Wars for people of all ages from nine upwards.
The event, called the Laser City Tour Series, takes place on Sunday 4th June at the Sports Training Village, during the overall British Modern Pentathlon Championships before moving onto London and Hull.
Newcomers will be able to compete and then watch the pros in action as they run in an action-packed and fast-paced finale to the Championships during which athletes are required to alternate between running and shooting a laser pistol.
Laser Run is open to anyone aged 9-90 and follows the same format as when part of a Modern Pentathlon.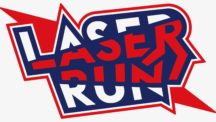 To be as welcoming and accessible as possible, the race lengths vary depending on age. Adults between 19 and 40 are required to shoot at their target from 10 metres in between each of 4 x 800m runs – just like at the Olympics – with younger and masters athletes competing over shorter shooting and running distances.
Confident runners and those keen on split-times will be interested to know the current World Record is 9:56:02. However, Laser Run is all about having fun and getting involved with a new sport. It's something that all of the family can get involved with and ideal for beginners including those who have never tried shooting or multi-event sports.
Each of the events will be run very safely and the organisers have equipment to borrow for anyone who doesn't have their own laser pistol. Some basic tuition will also be on offer so newcomers are very welcome to come and take part.
Danielle Every, Pentathlon GB CEO explains: 'The run-shoot finale of the Modern Pentathlon never fails to capture the nation's attention every four years at the Olympics; it is a tense, unique and compelling test of physical and mental strength. We are really excited to introduce Laser Run into our already busy portfolio of multi-sport events in 2017 and we hope to attract new athletes to the sport of all ages and abilities.
"Not only is the Pentathlon GB National Training Centre here at The University of Bath the right place to hold the first official Laser Run but to do so during the 2017 British Open Modern Pentathlon Championships is a great opportunity to launch it and showcase our elite pentathletes who are inspiring and some of the best in the world".
For further information: www.pentathlongb.org/about_our_sport