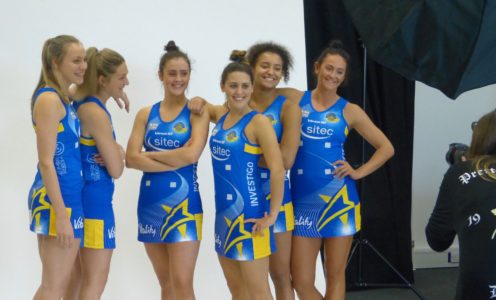 Netball international Rachel Shaw says the Team Bath Netball squad has become "a second family" to her as she and her younger sister Jess sign up to the Blue and Gold for the 2018 Vitality Superleague season.
She said: "I really love the buzz and energy around this team and the novelty of putting on the Blue and Gold never wears off for me".
The talented siblings have already played for England and are renowned for their dynamism and athleticism in the mid-court – although Rachel, the elder sibling and an MJ Church Ambassador, can also ply her trade at goal-attack.
Both are crowd favourites and Jess battled back from injury last season to make a significant impact for the Sitec-sponsored franchise that is also backed by Mogers Drewett and Investigo.
Jess joined Team Bath in 2016 from Yorkshire Jets and is coaching in local schools and as part of other initiatives.
Jess Shaw said: "I'm really looking forward to being back in the Blue and Gold for the 2018 Superleague season. Being coached by two of the best coaches [Jess Thirlby and Anna Stembridge] is only going to develop me as player even more.  I can't wait for the season to start and think we have a great chance of lifting that trophy".
Rachel has been in the Blue and Gold since 2014 and played in the England senior team for the Australia Test Series in 2016. She teaches at the Royal High School and is a vibrant and passionate advocate for her sport.
She said: I am super-excited and honoured to be able to represent the blue and gold again this season. There's also nothing quite like putting the blue & gold dress on and the novelty of it never wears off for me.
"If I'm totally honest I get more excited each time I put it on, mainly because of the squad and the great coaches I have around me and the culture we build and continue to build each year that drives me to be the best version of myself and to want to get straight back out there to start another exciting journey.
"I truly believe we have invested in the right people to lift and carry this team to a successful season".
As part of the University of Bath family of sport, both sisters are being supported through personal training courses.
Team Bath Netball Head Coach Jess Thirlby said of the duo who have made such impact on court: "Jess and Rachel are hugely talented players and we are delighted that they have committed to Team Bath.
"We value not only their playing abilities but their input to the whole squad and the netball community. We can't wait to see them in action".
Jess Shaw was part of the Team Bath squad that reached the thrilling final of the inaugural Fast5 tournament at the O2 last month. Rachel is back in full training after a summer break. Both also featured in Team Bath's squad which got through to the Final Four weekend of last year's Superleague.
Nine players have now been confirmed in the Superleague squad for 2018, with the Shaw sisters joining Mia Ritchie Tash Pavelin, Eboni Beckford-Chambers, Layla Guscoth, Chelsea Lewis, Imogen Allison and returning international shooter Kadeen Corbin in committing to the Blue and Gold.
A further big announcement is expected in the next day or two with the fixtures for the 2018 season and ticket details due to be released early this coming week by England Netball with Team Bath's home match tickets going on sale simultaneously.
Visit www.teambath.com/netball or follow TeamBathNetball on Facebook or Twitter to stay up to date.
Team Bath Netball are sponsored by Sitec and supported by partners Mogers Drewett and Investigo. Centurion Chartered Financial Planners are supporting the team's performance analysis capabilities, Viper 10 are their Sportswear Supplier and Skins provide the team with compression wear.