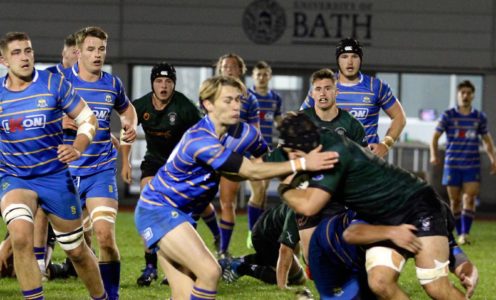 Team Bath were rocked by a solid Exeter performance in tonight's BUCS Super Rugby Westcountry derby at the University of Bath Sports Training Village.
Bath, sponsored by IKON Construction and supported by Investigo, went down 7-47, to a visiting side who performed clinically with the minimum of errors.
The teams went into tonight's match on the back of contrasting results, with Bath having recorded their first win of the season at Nottingham Trent while Exeter suffered their first defeat against Leeds Beckett.
But it was Exeter who pressured from the outset, rumbling over for a try on six minutes from Jack Strong the visitors' tight-head prop with Ted Landray converting.
For the ensuing 20 minutes Team Bath weathered multiple attacks, using superb defensive line-speed to force some Exeter handling errors. 25 minutes into the half, a flair move form the home-side saw a kick through to Finn Murphy on the wing whose ball-chase was blocked at the line by some Exeter fingertips.
From that nearly moment, the home side found themselves minutes later desperately defending on their own try-line. In the melee loose-head prop Arthur Cordwell picked up a yellow card and, with a man down in defence, Exeter capitalized somewhat inevitably to move to a 0-14 lead.
Callum Young's try was again converted by Landray whose fine kicking form brought him 12 points across the match.
The visitors drove home their advantage with a third converted try four minutes from the interval, this time from James Macrae to lead 0-21.
Sparked by a darting run from Bath winger Jake Allen, who then carried the ball over at the end of the move he started, the home side found the spirit to pull one back and go to the interval at 7-21, Will Flinn doing well to convert from an awkward touchline position.
For the opening 10 minutes of the second period the home side were pinned in their 22 and facing a series of scrums – three from penalties and one from a knock-on. Patiently Exeter built from those scrums and worked the ball through a series of phases to push over for another score from Young, this time against the post.
The try, converted once more by Landray, put Exeter 7-28 ahead and signaled the start of a stream of scores with Bath reeling under the pressure. The visitors added a further four tries – from Maddison, Haines and Schoter – with Landray only missing one conversion.
"Exeter were just too strong and consistent and did all the basics well. We showed some poor discipline tonight", said University of Bath Head Coach Aaron James after the game.
Bath now have a week off to regroup after a busy start to the season before welcoming defending champions Hartpury College to the Sports Training Village on Wednesday, November 22 for another local derby.
After winning both the league and cup last season, Hartpury are struggling this term and, like Bath, and will be looking to climb the table. Kick-off is 6.30pm and, as with all home matches, admission to spectators is free.
For more information about the rugby programme at the University of Bath, visit www.teambath.com/rugby.
Match stats
University of Bath: 15 Will Partington, 14 Finn Murphy, 13 Alex Nisbett, 12 Craig Duncan, 11 Jake Allen, 10 Will Flinn, 9 Luca Petrozzi; 1 Arthur Cordwell, 2 Tom Doughty, 3 David da Costa, 4 Will Britton (c), 5 Scott Russell, 6 Jack Davies, 7 Mike Snook, 8 Steffan Osman Wiggans. Replacements: 16 Jordi den Hartog, 17 Austin Hay, 19 Derryn Jones, 20 Tom Buttons, 21 Louis Mulholland, 22 Will Hughes.
Tries: Jake Allen
Conversions: Will Flinn
University of Exeter:
Tries: Jack Strong, Callum Young (2), James Macrae, Felix Maddison, Mike Haines, Paul Schroter.
Conversions: Ted Landray (6)
Referee: Alex Thomas.
Assistant officials: Charlie Gayther, Steve Hambley.
Attendance: 300